Hello from everyone here at Spitting Pig Wirral – we are extremely glad that you have taken an interest in our unique catering services and we would like to tell you a bit more about what we do and why our food is such a great option for so many different events on The Wirral. We are the leading hog roast company on The Wirral peninsula, and as well as treating you to hog roast catering at its very best, we are also able to provide a vast range of contemporary menus that are suitable for all occasions.
The Wirral's best hog roast caterers

Here at Spitting Pig Wirral, we love how much our clients appreciate the care and effort that goes into producing our perfectly cooked pork. We always begin by selecting the highest standard of free-range meat, which is then lovingly prepared by our specialist hog roast chefs on-site using our market-leading mobile catering equipment.
No matter how many hog roasts we have cooked over the years, we still invest the same time and attention into ensuring each hog we provide is just as succulent and tasty as the last. Our hog roast sandwiches, topped with our moreish crunchy crackling and a good dollop of our homemade apple sauce have provided the perfect accompaniment to many events in The Wirral and we have built up a long list of regular clients who employ our services time and time again.
Complete catering solutions for your event on The Wirral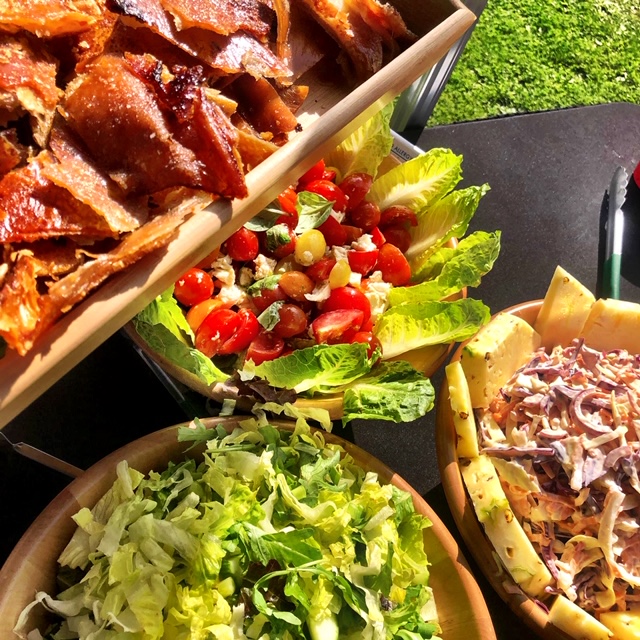 If you hire Spitting Pig Wirral to cater for your event, you receive only the best level of food and service at all times. We don't just focus on giving our clients the best hog roasts on The Wirral – we take into account every other detail when catering for events too. We will take care of all of the practicalities for you, from planning your perfect menu and ensuring the dietary needs of your guests are met to setting up and serving the food, and discreetly clearing up afterwards.
We will supply everything you need us to for your event including the serving table, high quality disposable crockery and cutlery as standard and a catering gazebo. We will also take excellent care of your guests throughout your event, providing a warm welcome and attentive service from start to finish. With us at the helm for your big day, you won't have to worry about a thing. You will be able to leave the catering in our very experienced hands and enjoy your party with your guests, safe in the knowledge that every aspect of the food and service is being handled by a highly professional mobile catering team.
Spitting Pig Wirral Machine Hire
We appreciate that there are occasions where you might prefer to do your own catering, and what better way to impress your guests than by doing your own hog roast! If you would love to give it a try but you are worried that it might be too costly if you have a lot of guests to feed, or too challenging if you don't have much catering experience, you will be pleased to learn that this doesn't have to be the case. We have a range of modern hog roast machines available to hire, which are designed to make the cooking process of straightforward as possible for you. Spit roasting your own hog doesn't have to be an expensive, labour-intensive or difficult experience and it certainly won't be if you have one of our cutting-edge catering machines your disposal!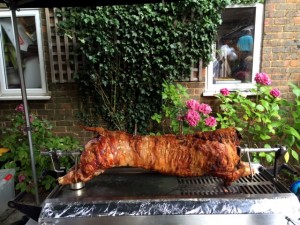 After you have let us know your requirements, we will select the best machine for your needs, your level of catering experience and the size of your event. We will bring it to your venue for you and we can supply everything you will need to do your own hog roast, including some high-quality free-range meat if you want us to.
Our friendly and informative delivery team will give you all the advice you need about operating our hog roast machine and some great tips for producing the most succulent meat and crispy crackling! When you have finished with it, we will collect the machine again too and we won't even ask you to clean it after you have used it. Hiring a hog roast machine from us couldn't be easier, and if you are interested in finding out more, get in touch with us here at Spitting Pig Wirral!
How to contact us
If you would like a free quote or you would like any more information about any of our catering services or machine hire options, you can reach us by phone, email or via the query form on our website. However you would prefer to get in touch, the Spitting Pig Wirral team are looking forward to hearing from you soon!