Spitting Pig Wirral is the easiest and most reliable caterer to book, and it's mainly in part to our brilliant sales team, just as much as it is the sensational food that we serve.
The simplest way to get in touch with the Hog Roast Wallasey team is by phone or email, but if a quote is what you've need we've made the whole process even easier and all you need to do is submit your details into our online enquiry form. We will then be able to provide you with a very competitive quote which is returned for you usually on the same working day or in some cases the working day after.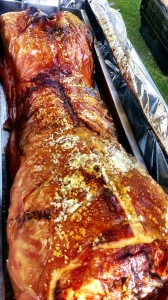 Alternatively if you do prefer, please do feel free to give us a call or an email to discuss your event and have a quote sent our to you.
Best of all, we do not charge for any quote's! If its your 1st quote or your 10th quote, it is all free. If you want to weigh up your options and see which menu is best valued for you then you can easily do that by requesting quotes for a number of different menus, rather than just one.
When Spitting Pig Wirral caters for you we'll be there to help you every step of the way. From your first contact we'll make sure that everything from the menu to the venue for your desired event is to your liking. The food we offer is the best in the industry and you can pick from 6 different set menus, customise any of those 6 or create your own menu from the ground up, and we'll help you in choosing your venue if you would like, with our experience and relationships we can suggest ideal venues and often even get you discounts on venue.
When the day or night rolls round we'll arrive a good number of hours prior to the start, to get everything in earlier, set up our area, tables, marquees, bars and anything else you might need help with. Our waitress team from Hog Roast Wallasey will help you however they can, just let us know any time throughout the day if you require them to do anything. Or if the plans change or you have a change of heart we'll try to accommodate said changes the best we can. Ideally the sooner we know of any changes the better.
What are you waiting for? Complete our online enquiry form and a member of the Hog Roast Wallasey team will be in contact to answer any questions you may.