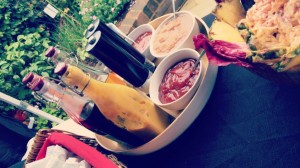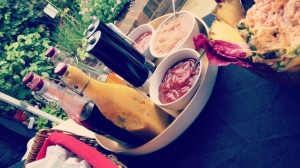 Spitting Pig catering is famous in Wirral and there are a number of reasons for that, but the biggest reason is that people always want a hog roast from us is because our menu's are simply the best!
So Why Choose Spitting Pig Wirral?
We can cater all different styles of meals and menus. We can produce a snack or buffet style menu for informal relaxed events or we can cook up beautiful sit meals with many mouth watering courses. Our speciality is the famous Spitting Pig Wirral hog roast which has turned us into minor celebrities around these parts! Our hog roasts have become so well known for a few reasons. Not only are they a spectacular sight to behold and can be a real attraction at any event but they are also a taste sensation like no other. The juicy meat is tender and succulent and the taste is unreal. The taste and textures of a Spitting Pig Wirral hog roast is like a party in your mouth.
If you have not yet been wowed by one of our wonderful hog roasts then you are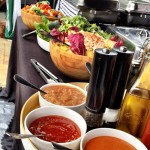 seriously missing out. If the sound of a Hog Roast West Kirby event doesn't awaken your appetite then fear not as we have many other tasty treats on offer. We can prepare your favourite meat in the same amazing slow roasted way to create a the meat roast of your choice. If you desire tender lamb, juicy beef, succulent chicken or traditional turkey we can do all of these for you. We can even do more luxury such as venison and veal roasts the options are endless.
Another perfect summer time treat that we specialise in is barbecue catering. From simple classic choices such as the humble beef burger or sausage to luxury marinated steaks and meaty kebabs. Our barbecues are a fabulous treat you will always remember from Hog Roast West Kirby
Hog Roast Variety
Our devotion to hog roasting knows no bounds and that devotion is evident in everything that we do. The menus that we have are fit for any purpose and available for any size of event, whether you're feeding only 15 people or feeding thousands. At Hog Roast West Kirby we have formal menus, informal menus, basic menus, elaborate menus, extravagant menus, party menus, wedding menus, corporate menus, breakfast menus, snack menus, buffet menus, full course meal menus and everything in between. We even have make your own menus if our set menus aren't to your liking.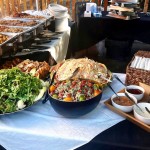 What's great about our menus is if you aren't happy, or would like to make changes to a menu we can customise it for you. Or make a bespoke menu from scratch just for you. You can find much more about our menus by clicking on one of the catering options above and then clicking the 'View Menu Options' button.
A key factor to Spitting Pig Wirral, is that all of our products are locally sourced! Free range pigs and the freshest local ingredients to create the best cracking and tasty side dishes.
[peekaboo]
[peekaboo_content]
Hire A Machine For Your Catering Event
We're known well in Wirral for our trademark hog roasts, hog roasts that taste unimaginably good and surprise guests, even those who had the highest expectations and already have had a hog roast before. But Spitting Pig Wirral takes the leads on a whole range of things, not least of which the proud versatility of the foods we can and do cook for a hog roast in Clevedon. You might think the region's best known hog roaster would restrict themselves to just hog roasting, but not us, Spitting Pig also has a plethora of other foods that are amazing, as good as any other traditional caterer could hope to make. Be it a tasty little canapé, a soothing soup or a spectacular couscous salad, there's so much about Spitting Pig to love.
If you find a menu you like the looks of we'll give you a quote on the same day or the next working day.
[/peekaboo_content]