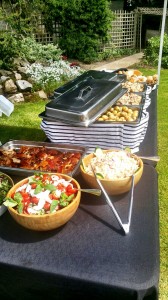 We have been in the hog roast business for the best part of two decades and here at Spitting Pig Wirral, we are even more enthusiastic than ever about what we do. Providing the best hog roasts on the Wirral and very varied mobile catering services across the peninsula is something that we take a lot of pride in and are very passionate about. We have always made sure that our food reflects exactly what our diners on the Wirral want and we love exceeding our clients' expectations with not only the standard of our hog roasts, but also the diversity of menus that we offer for any event taking place on the Wirral.
Bespoke menus for any occasion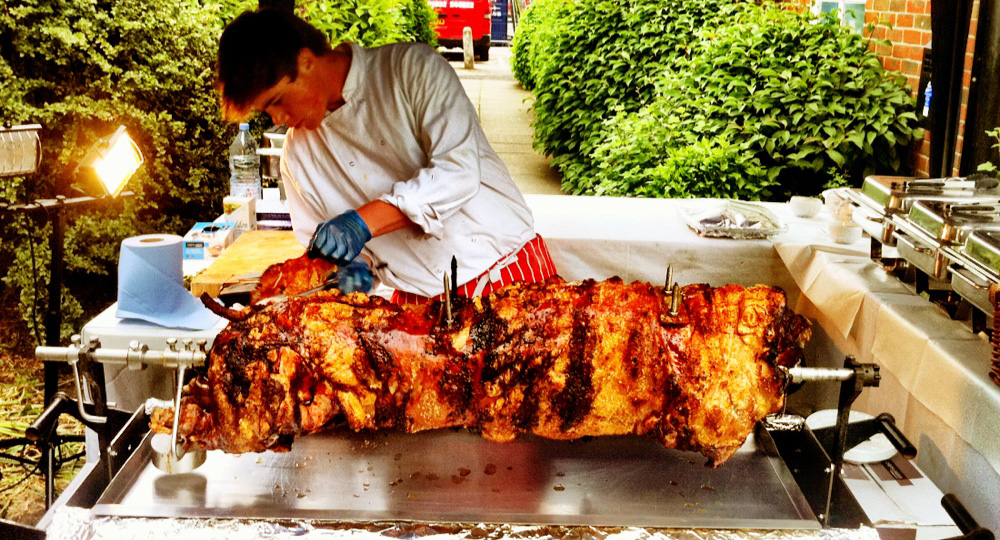 If your event requires a more varied spread, an alternative to our signature dish, or options for different dietary needs, that is not a problem the Spitting Pig Wirral team. Ever since we established our hog roast business, we have managed to strike the ideal balance of becoming the leading specialist caterers within our niche whilst also having the flexibility to create all manner of other menu items to an excellent standard too. We don't just pad our menus out with generic dishes in order to satisfy the requirements for other options – our creative team regularly devise exciting new dishes and expand our menus to ensure that the quality and variety of our food meets the needs of modern diners.
Whether you require a buffet for a private party, an impressive 3-course menu for a corporate event or an unforgettable wedding feast, we will give you everything you want for your special day. Our set-menus offer an abundance of choice for all tastes and budgets, but if you would rather have a completely unique menu for your event, our forward-thinking team will take great pleasure in designing a fully bespoke catering package for you.
Freshly made food and superior ingredients
What is even better than having a menu that has been designed especially for your event is having every part of it made from scratch at your venue on the day! This is what you can expect if Spitting Pig Wirral are doing the cater for your event. Whether your menu is simple or complex, or whether we are catering for a small private party or several hundred people, we never alter our stringent food preparation standards. Nor do we make everything in advance or acquire readymade dishes in order to cut corners or save time.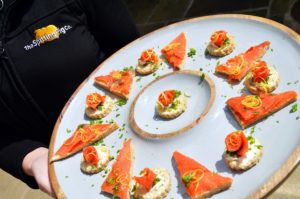 From our spit roasted pork to our delicate canapes, seasonal side dishes, tempting starters and moreish desserts, everything we put on your plate will be freshly made by us on the day and comprised of the best ingredients available. We are very discerning about where our ingredients come from and we only ever source the highest calibre of ethically reared meat from the best UK producers, and we use as much free-range and locally sourced produce as we can.
Versatile event catering anywhere on the Wirral
Our professional team are never inhibited by where we are catering, and we are able to produce the same impressive standard of freshly made food in any venue on the Wirral. We are local experts in outdoor catering, and we are able to provide memorable outdoor dining experiences whatever the occasion.
Whether you would prefer to host your event in the open air or you opt to hire a marquee, we are able to set up our equipment in any environment without dominating the space and we always hit the ground running in getting the food preparation underway. If you would rather host your event indoors, or at your workplace for example if you require catering for a corporate event, that is absolutely fine with us too. There are many different kinds of indoor spaces that are completely suitable for us to cater in, and we don't require any additional power supply for our equipment or extra support of any kind on-site. So, an added bonus of hiring Spitting Pig Wirral to cater for your event is being able to host it wherever you please without having to worry about the logistics of us being able to cater there.
Tailored service for your event on the Wirral
Another crucial aspect of catering for any event is of course the level of service that you receive and the importance of the style in which your food is presented being in keeping with the tone, theme and occasion. This is something that we have always placed a great deal of importance on here at Spitting Pig Wirral, and we will make sure the service you receive is absolutely perfect for your event.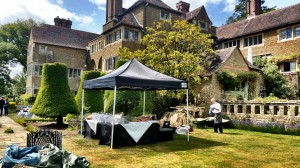 If your event is more formal in nature, we can give you the option of enlisting the support of our diligent events team, who can be on hand to meet and greet your guests with a chic canape welcome reception, before going on to provide full table service to a polished and professional level.
Whatever style of service you prefer, the Spitting Pig Wirral team will ensure your guests receive the highest level of care from beginning to end.