Hog Roast The Wirral
The Wirral Peninsula has something for everybody, and the town of Wirral is perfectly placed to take advantage of it. At hog roast Wirral we love to cook our pig roasts for the Wirral, because something for everybody is our ethos too.
The people of the Wirral are proud of their agricultural heritage. There's a lot of it. Wirral itself has at least four different farm attractions all within seven miles. Some are focussed on family fun days out, like Tam O'Shanter Urban Farm's "meet the animals", and Gregory's Farm with its "maize maze". For others the food is all important, for example Claremont farm has a fishery and Pick-Your-Own Produce, and also hosts the annual Wirral Food and Drink Festival. Church Farm Organics offers a family day out alongside a farm shop that stocks local and home-grown produce.
At hog roast Wirral we also source our meat from local suppliers. There's nothing better than fresh food, and the people of the Wirral know that. That's why it's great to cook for them, knowing that they appreciate our efforts to stay local.
But farms aren't for everyone, just like not everybody wants a hog roast Wirral pig roast. The Wirral has plenty of other attractions. There are hundreds of acres of country parks and nature reserves for walking, some coastal and some inland. There are opportunities for sports, with the usual football, rugby or cricket clubs alongside archery, sailing, or sand yachting. In the same way, we offer plenty of opportunities to customise o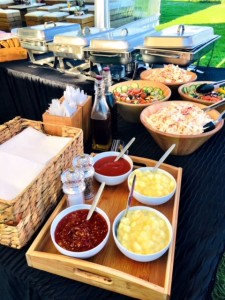 ur menu. If you don't like pork, you can switch it for chicken or turkey, beef or lamb. They all come with traditional accompaniments, but it's up to you if you even want those in the floured roll with your meat. We also offer vegetarian options, or burgers and sausages for those who fancy something a bit more ordinary.
If a roast sounds too informal, we also offer hog roast Wirral sit-down meals with several courses, silverware, crockery and waiting staff. Potatoes and salads are on offer as side dishes, and we'll even provide dessert. It's up to you how little or how much you want. Pig (or other) roasts are popular at weddings these days, but we'll also cater for birthdays, anniversaries, even football matches on at the local pub. In fact, if you really want we'll even provide a machine, the roast, and training so you can do it all yourself. Although we're not sure why you'd want to, when you can have a chef and staff to cook and carve the meat, prepare the food, and tidy away afterwards!
The people of The Wirral are spoiled for choice, for things to do as well as fantastic local food, so it's great to cook there knowing they really appreciate our flexibility. It may only be a small place, fifteen miles by seven and bounded by sea on three sides, but they certainly pack a lot in. That's why we love the Wirral. They know what they want there, and we're happy to offer it.