Over the years, Hog Roast Capenhurst has had ample experience of catering all kinds of different parties and events, at many types of locations and for many different numbers of guests. We've catered formal and casual parties, both outdoors and indoors, and for customers with differing budgets. We've served celebrities, couples, kids and queues of people at school fetes, retirement functions, christenings, birthdays, weddings and so much more. We have the expertise, the knowledge, and the experience to help your special occasion be a great success and that's partly because our food is especially tasty, as well as fresh, local and homemade too, and partly because our service is second to none.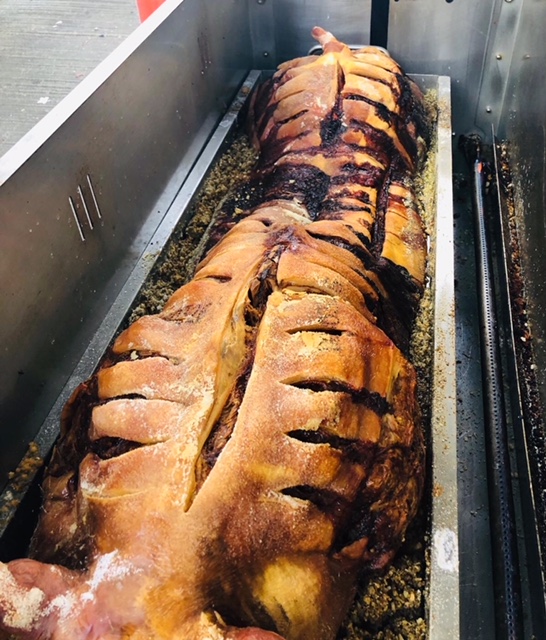 When Julien asked Hog Roast Capenhurst to cater at a local factory, it was because he was organising a works party to celebrate a merger. We've spent years catering corporate functions too, and we've catered for the business where Julien works before, and we knew just what they wanted serving at this party – pigs in buns. Our amazingly succulent and tasty pigs in buns are what you may know as hog roast rolls, which are bread rolls (or wraps if preferred) filled with pork, crackling, apple sauce and stuffing, after the pig has been sizzling away for several hours and then had a short rest before being carved up. Cooking it low and slow means the meat cooks all over, inside and out, and we prepare for this first by scoring the pig and adding plots of water so it stays moist, and then by massaging in plenty of salt, as this makes the crispy, crunchy, salty crackling. 
Julien laughed when we told him we knew exactly what they wanted serving again, but he and the other employees can't get enough of our delicious pigs in buns and neither can the bosses at the factory.
It soon came round to the event and Hog Roast Capenhurst arrived at the premises early in the morning while it was still dark. By lunchtime, the queues had formed and we were finally slicing up the fresh local hog to make the pigs in buns they were all frothing at the mouth and licking their lips for.