Both petrol heads and pork fans alike were in their element this week when Hog Roast Meol were asked to cater for the spectators and participants at a local rally!
It may not have been Silverstone, but the local circuit was certainly a very exciting (and noisy!) place to be. As much as we love being in the thick of things, we never let what is going on around us distract us from our important task of providing fabulous fresh food for our diners, no matter where we are or how large or rowdy the crowd is! So, amid the revving of engines and the whooping of the spectators, we remained focused on doing what we do best-feeding people great food!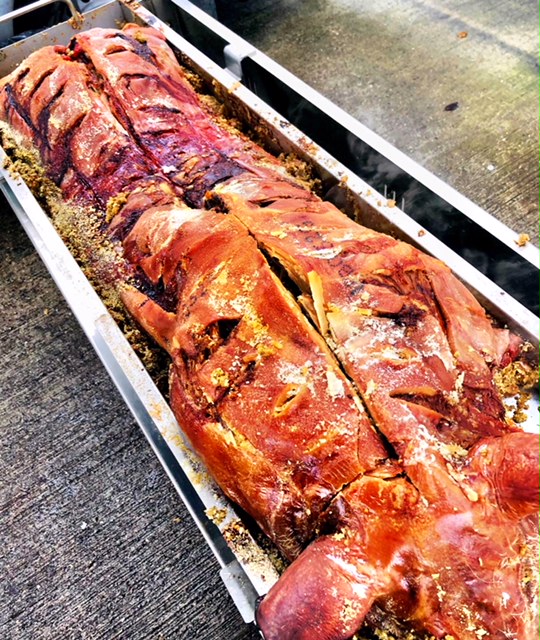 In addition to our trademark slow-roasted pork butties with all the trimmings, we were also busy preparing some of our homemade creamy coleslaw and macaroni cheese to accompany our superb, locally-sourced meat, all of which was guaranteed to please the racing fans as much as the race itself!
Whilst the support teams made sure the cars and drivers were well looked after, Hog Roast Meol made sure we kept the crowd fuelled and happy throughout the event, with our swift and consistent service and superior locally-sourced and freshly prepared ingredients!
Everyone loved our pork and sides, and thanks to our intelligently-designed hog roasting machines and dexterous catering team, we managed to produce a plentiful supply of perfectly cooked meat for the racing fans and drivers with a minimal amount of staff and cooking equipment!
As the nail-biting rally was won and lost, the victors and runners up also took the opportunity to sample some of our succulent slow-roasted meat and competitiveness was replaced with camaraderie as everyone gathered together to offer congratulations and commiserations to each other as they enjoyed their well-deserved post-rally feast!
It was a very exhilarating and rewarding day all round for the Hog Roast Meol team and the race may not have ended as everyone participating in or watching it might have wanted it to, but we're glad we managed to help everyone put their differences aside with our unbeatable outdoor food!