When Hog Roast Bebington is invited to cater an event, we always do so with a professional attitude, wanting to exceed expectations from start to finish and provide delicious food that everyone can eat and at an affordable price too. We have a great array of options available for you to choose from, so whether you're thinking of a hog or spit roast centrepiece featured, a simple barbecue cooked for you and your guests, our Southern Slow Roast Menu sizzling away for hours on end or several courses to be served at your party or event, we can create the menu you've been dreaming of.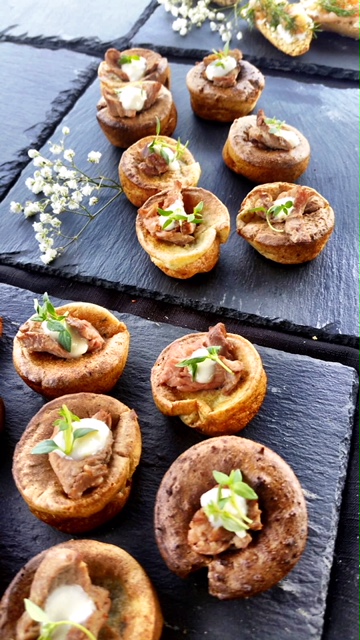 We work together with our customers to ensure that everyone invited to your special occasion is well-fed, so if you have any qualms about catering the dietary requirements of your guests (or yourself even) or if you want us to serve additional or alternative dishes on the day, our friendly team are always on hand to help you with anything that you may need.
For their wedding day, Eliza and Robbie asked Hog Roast Bebington to provide a three-course meal for their 75 guests, as well as welcome canapés, some side dishes and a vegetarian option too. They chose six canapés to be served to guests as they arrived, together with glasses of bubbly and orange juice, including mini pizzas and quiches, dim sum, chicken satay, fillet of beef, and Peking duck wraps, with three of them being suitable for vegetarian guests. The starter of fresh, homemade tomato and herb soup and crusty rolls would be suitable for all, and while most guests would enjoy traditional hog roast rolls for the main course, served buffet-style, the vegetarian guests would enjoy grilled halloumi and vegetable skewers with pitta bread and our Tzatziki dip. Three salad dishes and new potatoes would also be available for all the guests, as well as soft bread rolls and wraps and a selection of sauces, and then the finale of the night would be our handmade dessert selection. 
On the day of the wedding, Hog Roast Bebington served up a delicious feast to the happy couple and their guests, and by the time we served the chocolate torte and profiteroles at the end, everyone's hunger had been well and truly satisfied.