Hog Roast Greasby has catered many kinds of parties and events over the years but we are always extremely popular for wedding receptions and breakfasts. If you're organising your big day yourselves or even if you've handed over the reins to a wedding planner, you're in safe hands with our professional team, which includes highly-trained chef, assistants and even waiters if needed. Regardless of the type of menu you want to be featured for your special occasion, and whether formal or informal, we will work hard and do our utmost to ensure it all goes to plan and that everyone invited gets to enjoy our delicious food.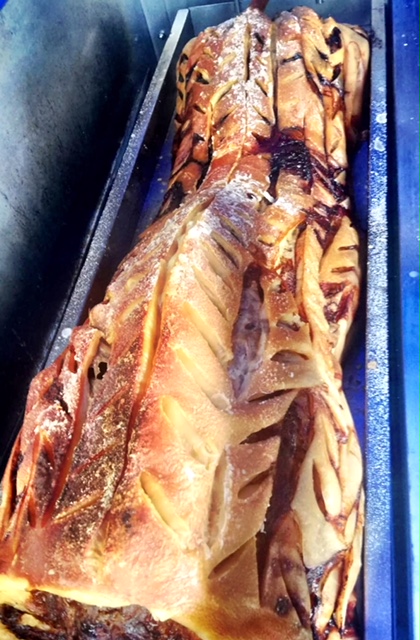 As we explained a few months ago to Rose and Gordon, whose wedding we catered on Saturday locally at a lovely hotel, Hog Roast Greasby is famous for our signature dish, but we can also cook much more than hog roasts if preferred. From barbecued to marinated meat mains, canapés and several courses to our simple but scrumptious pigs in buns, and with plenty of side dishes to choose from as well as lots of options for special diets, whatever you have in mind you are sure of satisfaction, and that's inclusive of all your guests.
Rose and Gordon asked us to cook a traditional hog roast for their main meal, served buffet style, but also wanted some side dishes and a vegetarian option. From the fresh, local pig, our hog roast would make lots of pigs in buns for sixty of the guests, and the four sides of sweet potato wedges, a Greek salad, mac and cheese and our homemade coleslaw would provide extra food for all the guests, including the two vegetarians. The vegetarian main itself would be our veggie kebabs, where we grill skewered halloumi and fresh vegetables and serve in pitta bread with our tasty dip.
On the day of Rose and Gordon's wedding, Hog Roast Greasby cooked an amazing feast for the couple and their guests, and by the end of the evening, the hog had been stripped clean and the rest of the food had been devoured with relish too.