Hog Roast Moreton often caters private parties, weddings and social events but we are also very experienced in catering corporate functions too. We've spent years perfecting our corporate menus to ensure that businesses large and small can both benefit from our tasty, fresh, homemade dishes, served by professionals who are committed to providing first-class service each and every time. Whether you're local to us or located further afield, we can help you to create a menu that will impress all of your guests.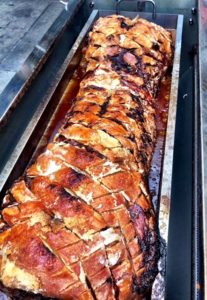 When Mickey contacted Hog Roast Moreton a few weeks ago, it was to book a meal for the employees at the casino that he manages, to thank them for their hard work and dedication. Mickey had enjoyed one of our hog roasts over the Christmas period at a friend's wedding and wanted to treat the employees to our mouthwatering pigs in buns – a clear favourite of our customers and their guests time and again. He also needed a gluten-free option, and our pigs in buns already do the trick, just that we need to take along suitable bread rolls for those guests.
On the day of the meal, our Hog Roast Moreton chef and team members headed to the casino to set up our equipment outside in the grounds. Once the gazebo and serving tables were up, our chef prepared the fresh, locally-sourced meat by scoring it in diamond shapes, covering it in water and then smothering it in lots of salt, which gives us the crackling. Then we just had to set the hog roasting machine to a low temperature and that was the beast, sizzling away for several hours as we watched over it.
Nearer to the time of service, our team needed to prepare the other ingredients for the pigs in buns; our own-recipe sage and onion stuffing needed to be made and then dished up together with our tangy homemade apple sauce, the fresh bread rolls needed to be sliced and then placed together with some fresh, floury wraps, with the gluten-free bread rolls kept separate, and we needed to lay out various condiments and serviettes.
By 3pm, the queues of guests were lining up for a slice of heaven or two and it was finally time to carve the hog and serve up some really tasty grub.