After catering for such a variety of events through the years, we have worked in many different venues. As a result, we know which types of venues are best for which events- and which venues should be avoided! We also have some great tips for making sure your venue is the right choice for your event. Keep reading to hear Hog Roast Heswall's top venue tips…
Make sure it fits your budget
There are so many great venues available, so it can be easy to get carried away by a great option and blow your budget on one cost. There are many additional costs that you need to consider when hosting an event, so it is vital to create a budget and stick to it throughout the planning process. Not only will this eliminate stress later on, but it will also ensure each element of the event is great.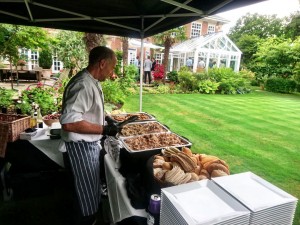 Create a space for catering
Depending on the style of catering you're opting for, the space needed will vary. At a minimum, Hog Roast Heswall will require room to set up a food cooking and preparation station, although this can take place indoors or outdoors. We may also require a buffet station if you have chosen a buffet-style menu, or tables for your guests if you have chosen sit-down dining.
Allow space for social distancing
This is a vital rule for current events and is one that needs to be so considered carefully when choosing a venue. It is important to ensure that there is ample space for social distancing, such as leaving additional room between tables and creating hand sanitising stations. We recommend choosing a venue that holds a higher capacity than your number of guests so that there is extra space where needed.
Hopefully, this blog post has helped you to choose the venue that is right for you! Hog Roast Heswall cater to a wide variety of events, including private and corporate parties, as well as weddings. To book your catering today, simply let us know your party size, location and date and we can begin working on your perfect menu package.