When a couple have been with each other for most of each other's lives it can be difficult to think of exciting and thoughtful ways to show them how much you love them.  This is how Matthew felt when he called Hog Roast Great Sutton to book a special surprise for his 50th wedding anniversary.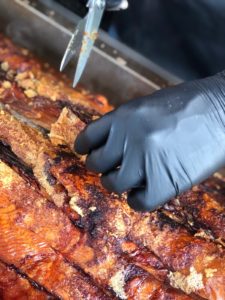 Matthew chatted with our friendly head office team for a while and let them know that he had cooked his wife meals in the past for their anniversary, but they had always ended in burnt potatoes, under-cooked chicken or lumpy mash. This time he wanted to take the stress away from the situation and hand it over to the professionals. When he came across Hog Roast Great Sutton's website, he knew that his wife would love to experience a hog roast in her home, as an avid foodie but an anxious diner.
Hog Roast Great Sutton were asked to come along to their family home where Matthew had invited over his close family, totaling about 10 close family and friends. His wife didn't know about what Matthew had arranged and came home to the surprise of not only her most loved ones but also the smell of our hog roast cooking!  Matthew had chosen our classic hog roast with stuffing, crackling, new potatoes and sweet potato fries (as he knew his wife had loved these in the past). Once the party was underway our chef started carving away at the hog roast and breaking off the crispy crackling, all placed into our heated chafing dishes. Matthew's wife came up first and we created the perfect hog roast roll for her, starting with a cheese-topped roll, followed by a big dollop of pulled pork, adding our homemade stuffing and apple sauce all topped off with salty crackling, to make the most perfect sandwich.