When it comes to providing top-notch catering services, Hog Roast Huyton is the number one choice both locally and further afield, but did you also know that we hire out and also sell our own range of hog roast machines too? We designed our range to be easy to use and highly versatile and they are hand-built by our experts in our Lancashire factory. We invite our customers both old and new to visit us to see them being built, to speak to our professionals and to also have a look in our showroom, where you can view our range in person. We have brand new and used machines for sale, and that includes some that are different brands, as we want our customers to be able to choose from more than just our own, in case a different brand is better for your needs.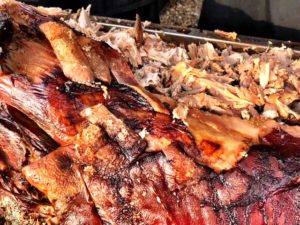 One of our long-term Hog Roast Huyton customers, Stuart, has spent many years hiring our catering services for both private and small business parties and he has also occasionally hired our machines for a DIY at home with family and friends. Stuart recently contacted us to say that he realised buying his own hog roasting machine would now make sense, after all the experience he has gained from Hog Roast Huyton, so he could hog and spit-roast like a pro for his parties himself now – both the ones at home and the ones at work. As Stuart already knows, our machines are all lightweight and easy to manoeuvre, so he knows he could easily transport one from home to work and back again when needed.
Stuart came to visit us at our factory yesterday and he chatted at length to our experts about his needs and also watched in amazement as we hand-built a machine in front of him. Next on his agenda was having a look around our showroom and choosing the machine that would be right for him and needless to say, Stuart wanted to buy the one machine he is already comfortable with using, our highly-popular Titan, and he left with a brand new model and a great big smile on his face.