If you've never cooked your own hog roast before but you're thinking of hiring equipment to do so, let our Hog Roast Meols professionals show you how. You can benefit from our decades of expertise and vast knowledge about both hog and spit roasting when you hire one of our own machines and you can become a pro chef yourself in no time at all. The hog roast machines that we use ourselves, sell and rent out are our own, which we hand build from scratch in our Lancashire factory, and we've spent years perfecting them so that they cook great food. You'll certainly be surprised at their ease of use, and when it comes to a hog roast, once you've prepared the meat, you just set the temperature, turn it on and watch it cook. It couldn't be easier.
One of our Hog Roast Meols customers recently rented one of our range of hog roast machines, in order to cook a pig at his pub. Having branched out into serving food in his pub recently,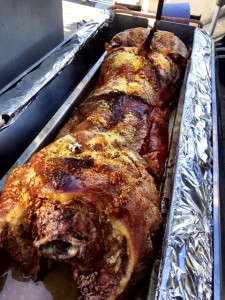 Carl realised there was a gap in the market for speciality nights, where he could provide something a bit different, so instead of a typical curry and beer night like other pubs often do, he could hold his own hog roast feast. However, as Carl had never cooked his own hog before, he asked us to teach him how. This is actually part and parcel of our rental service, as when we hire out equipment, we always ensure our customer knows how to use it and how to get the best out of it. When we let Carl know that delivery and collection of a hog roast machine is included in the price too, he booked us in for a trial run and we looked forward to dropping it off at his pub last weekend.
When Hog Roast Meols dropped the machine off, it was together with a fresh, local pig, as we can provide this extra service for customers who aren't sure where to source one. Once Carl was happy with our instructions, we left him to it, and when we picked the machine up two days later, he was happy to report the success of his trial run hog roast and booked in another rental so he can show off his skills to his customers next week, too.