Hog Roast Thingwall introduced an alfresco menu to our selection, and it quickly became a very popular option for summer weddings and celebrations. The catering style is incredibly on trend and the menu features three courses of delicious dishes for your guests to choose from. Here is what to expect when you hire Hog Roast Thingwall to provide alfresco catering at your wedding this summer…
Ally has always planned to have a summer wedding as good weather means that the reception can happen outdoors, and it makes for some beautiful photo opportunities. After deciding on an outdoor reception, she then needed to find a menu that can be cooked, served, and enjoyed outdoors. Ally reached out to Hog Roast Thingwall to find out more about our alfresco menu, as it seemed like an ideal option for her 80 wedding guests to enjoy. We agreed that the menu seemed to be ideal for the occasion and we got to work with the planning process.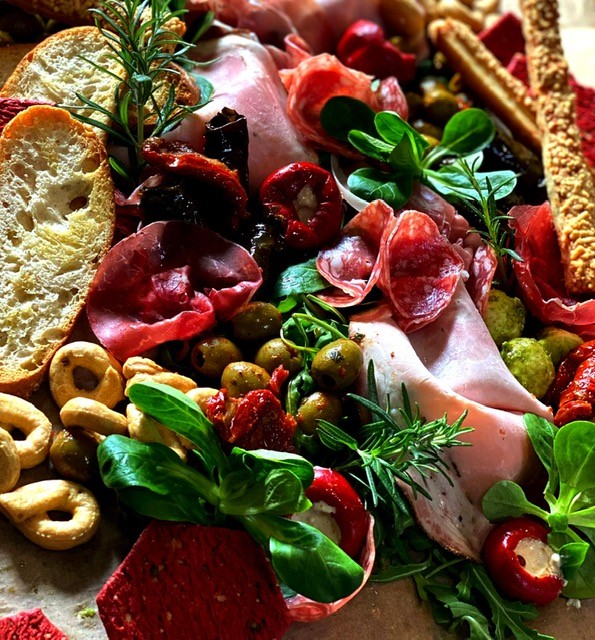 Our alfresco menu begins with sharing platters in the form of charcuterie boards. The boards consist of gourmet meats, cheeses, salads, and fresh bread, combining a variety of tastes and textures to create a delicious first course.
Following this, the guests will enjoy a classic hog-roast served with all of the trimmings. This includes seasonal vegetables, roasted potatoes, sage and onion stuffing, homemade gravy, and fresh applesauce. This is one of our most popular main courses and always goes down a treat as it is such a versatile and delicious choice.
To finish the menu, your guests can choose from a selection of desserts, ranging from fresh fruit salad to profiteroles or cheesecake. This is a wonderful way to end a delicious meal and ensures that there is something for everyone to enjoy.
Whatever style of wedding you are planning on hosting, Hog Roast Thingwall has a menu that is ideal for you. With over 7 different catering packages to choose from, there is bound to be something that is just right! To find out more, simply let us know your party size, date, and location and we can do the rest. We hope to hear from you soon!