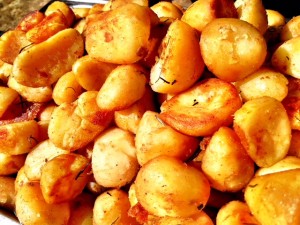 It just goes to show, it's never too late to find love, as 60 somethings Janet and Bill discovered when their eyes met across the room 3 years ago at a ballroom dancing class they both attend! Both widowed and retired, they thought they were both destined for a life alone, until they found love and happiness in each other! It wasn't too long before Bill got down on one knee (which he had no problem doing thanks to all those dance lessons keeping him fit!) and the happy couple started planning their wedding. As they had their first date at their local village show and had fond memories of tucking into a hog roast butty together, they decided that was what they wanted for their wedding reception. They didn't just want a simple hog roast sandwich though, they wanted a more sophisticated meal that still allowed them to enjoy the meat they both loved so much, so they hired Hog Roast New Ferry to provide one of our classy wedding menus!
The lowkey reception was taking place in the outdoor area of their local cricket club and was attended by 40 of their close friends, family and grandchildren. Janet and Bill wanted one of their beloved hog roasts for their main of course, as well as a selection of Hog Roast New Ferry's handmade canapes including pate en croute, gourmet sausages and mini quiches. They also chose feta skewers for Janet's vegetarian daughter and rosemary roast potatoes and seasonal vegetables to accompany the main course.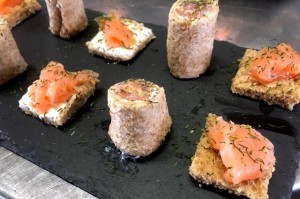 The canapes were served by our own front of house staff as the proud groom arrived with his new wife on his arm, and when everyone had finished with the hugs and photos, we served the eagerly anticipated main course. Janet and Bill had a lovely day and it was very touching to see two people find happiness with each other at a time in their lives when they thought it was too late to find love again. The Hog Roast New Ferry team felt very privileged to be a part of it and we were thrilled that our food made their day even more special!