When you're planning any kind of special occasion that you want to feature gorgeous food, whether you have a fancy dream menu in mind or you're hankering for just a sumptuous main all by itself, our Hog Roast Seacombe experts are the ones to call. We're there for you from start to finish, with advice or recommendations if you prefer or to simply listen to your exact needs and deliver on the day, not only meeting but exceeding your expectations in every way.
We've been there in these ways for many a party and event over the years, including birthday celebrations with themes that range from kids' fancy dress to posh affairs where only black-tie will do, and countless weddings, both informal and formal, as well as so much more, as our homemade delights are suitable for anything that you may have in mind. With plenty of choice and variety to suit all kinds of occasions, regardless of how many people you're inviting (as we can cater just a handful or several hundred or more if needed), and no matter the location, Hog Roast Seacombe is a wise choice to make.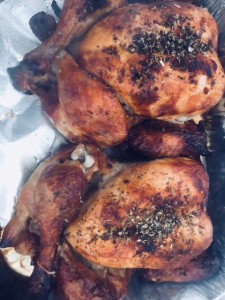 We're often asked to cater with a mouth watering hog roast, of course; after all, it's our signature food that's a part of our name! Nevertheless, we also cook a mean spit roast too, with a hunk of lamb or beef or piles of chickens or turkeys sizzling away until tender, and our alternative dishes also include tasty ones that cater for special diets, like vegan barbecued pulled jackfruit, vegetarian skewers or even gluten-free pigs in buns.
If you're thinking of designing your own menu, we have many options to choose from, with handmade canapés, starters, sides and desserts that you can add to your main course, whether you'd like one additional course or several. You may find the perfect menu in one of our standalones, however, like our Alfresco, Loaded Fries, Southern Slow Roast or Barbecue, and any one of these will surely knock your guests' socks off!
Call Hog Roast Seacombe today to see how we can cater your next special occasion in style.