It's that time of year when the days become longer, the temperatures become warmer and the smell of back yard barbecues fills the air. For the team at Hog Roast Crosby, there is no better time, as a large number of events they cater for, are families taking advantage of the change in season, and coming together for a celebration in the sunshine. Take Dave and Melissa for example. They wanted to spend some quality time with both of their families, and give their two young daughters the chance to see their cousins, and so they decided to throw a barbecue one weekend, but that wasn't the only great idea that they had.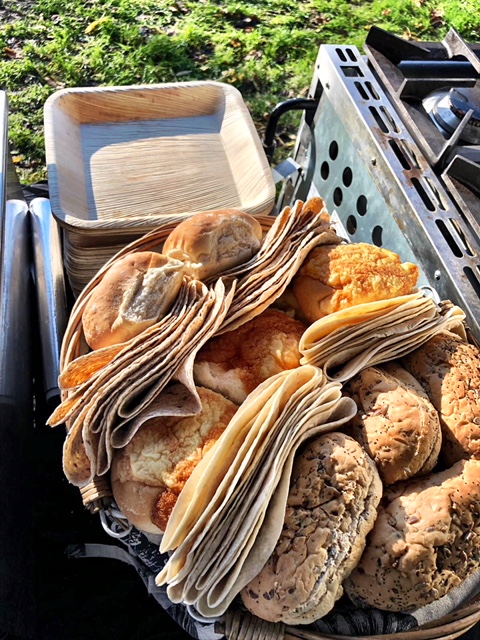 They decided to hire the team at Hog Roast Crosby, to provide a wonderful hog roast that would dazzle and delight their guests, making their barbecue stand out amongst the rest. The event was to be held at their home and there were over thirty guests expected to attend. We suggested serving the hog roast with crusty bread rolls and a selection of sauces – AKA our infamous Pigs in Buns. Not only would this be a great way to feed everyone, but it would also be very convenient as they could be served on disposable plates and eaten by hand, as opposed to necessitating cutlery.
When the day arrived, our team from Hog Roast Crosby were there nice and early, a good four hours before guests were due, in order to set up a gazebo and serving tables as well as to get the Hog roasting and allow it plenty of time to cook slowly to perfection. One of the secrets to our success is turning the meat as the slow cooking process plays out, as this helps to disperse the hog's natural basting fluids evenly throughout the meat, achieving a moist, tender finish with crispy crackling.
Everybody loved the taste of our hog roast and thought it was the perfect way to enjoy the sunshine. Dave and Wendy were delighted to see their family again, and thanked us for all we had done. With nothing left to do, the team from Hog Roast Crosby tidied away their mess discreetly and disposed of any waste off site.