The catering you choose for your event will leave a lasting impact on your guests and is often a memorable talking point. As a result, it is important that you get them talking for the right reasons- and not the wrong ones! When it comes to choosing your catering company, it can be hard to search for one that checks all of your boxes. Here are some tips from Hog Roast West Kirby on how to choose the right catering company for you!
Do they cater to your dietary requirements?
This should be the first thing you check with your caterer. It is vital that the caterer you choose can provide dishes that are suitable for every guest that is attending your event. This includes catering for allergies and dietary requirements, such as vegan or gluten-free. Hog Roast West Kirby are proud to say that we can cater to any requirements, providing a menu that is suitable for all.
Do they offer your preferred catering style?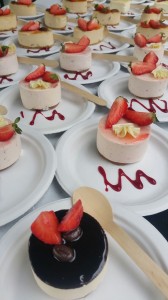 At Hog Roast West Kirby we have a selection of common catering styles, including buffet style, alfresco catering, and sit-down dining. One of these styles is great for any event since they are incredibly versatile and customisable.
Are they based locally?
Hog Roast West Kirby have locations across the UK, so we are guaranteed to have one based locally for you. This makes us a great choice for events around the country since we have excellent catering teams all over!
Do they have dishes your guests will enjoy?
It is essential that the caterer you choose can provide dishes that your guests will enjoy. At Hog Roast West Kirby, we have so many different menus, each filled with delicious dishes for you to choose from. This includes a selection of cooking styles, such as slow-roasting, spit-roasting, barbecuing and grilling.
Choosing a caterer doesn't have to be difficult and Hog Roast West Kirby have menus and catering styles that makes us perfect for any event. If you are planning an event for the future, simply let us know your location, party size, and date- and we can add you to our diary.