Prom is a night to remember and one that marks the end of a long journey through education. Whether it is a high school, sixth form or college prom, it is an occasion that is made special by the outfits, venue, catering, and entertainment. Prom catering comes in many different forms and depends on the budget and formality. At Hog Roast Grange we can provide buffet-style catering, formal sit-down dining, or something in between.
To mark the academic year coming to an end, Trinity College contacted Hog Roast Grange to book us for their prom catering. The event was 'Hollywood' themed, with guests dressing in their best suits and ball gowns looking fit for a red carpet event. To match this theme, the college opted for sit-down dining with canapés, to set a formal tone for the event.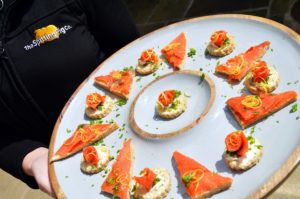 As the guests began to arrive, Hog Roast Grange waiting staff served a selection of canapés. The chosen menu included the following 5 options: mini pizzas, salmon, duck breast, mini fish and chips, and an Indian selection (although we have many more choices on our website). Canapés immediately set an elegant tone for the event and it was the perfect start to the evening.
After the canapés were complete the students spent time socialising and making use of the photo opportunities that had been set up inside the venue. They were then shown to their table ready for our delicious main courses. The chosen options included a beef sirloin steak or whole-roasted chicken, as well as a vegan option. These dishes went down a treat with the students and tableside dining was the perfect choice for this event.
Following on from the main course, the students chose between fresh fruit salad, profiteroles, or cheesecake for their dessert. Each of our desserts are perfectly handcrafted to ensure that they look and taste fantastic.
To book your Hog Roast Grange prom catering today, simply let us know your party size, date, and location and we can begin to plan your perfect menu. We have a dish to suit every guest and options for any dietary requirement.