Our Hog Roast Bromborough team had a whale of a time recently, catering a kids' birthday party with an 'under the sea' theme. We often cater birthday parties but this one in particular was requested by the 10-year-old birthday celebrant himself, Leo, who had asked his parents if they would treat him and his friends to his favourite meal. Since enjoying our hog roast rolls over the summer holidays at a family wedding, Leo never forgot the amazing taste and awesome sight of a Hog Roast Bromborough roasting hog, never mind the fantastic aromas wafting around, so he kept us in mind for his next birthday.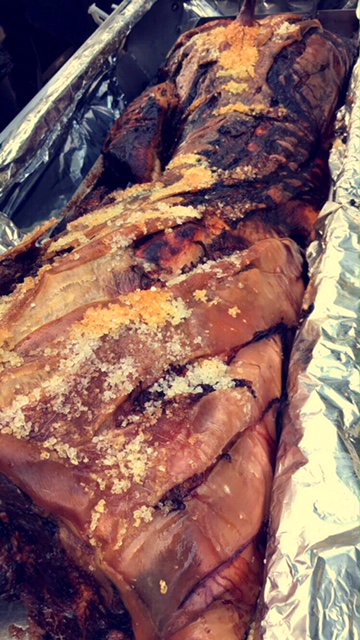 On the day of the party, our chef and assistant arrived at the venue, a local community hall, bright and early in the morning. Service was set for 12pm so we had a good few hours to prepare and then cook the pig before the 40 guests arrived, and we also had some more food to prepare before then too. Leo's parents had asked us to put together a couple of fresh salad dishes and to cook new potatoes in herbs as additional food options, which we would do later on in the morning while the hog was sizzling away.
After scoring the meat all over and then covering it in plenty of water and salt, it was time to turn our Hog Roast Bromborough hog roasting machine on and cook the hog at a low temperature while we watched over it. Later on, we added the new potatoes to the machine; you may be surprised about this but our equipment can cook much more than just the hog. Our machines act like conventional ovens so we cook just about anything you can think of inside while the meat cooks above. 
As we prepared a tomato and mozzarella salad and our homemade coleslaw, the community hall and gardens were decorated beautifully with all kinds of sea creatures. Then the hog had cooked to perfection and we let it rest for half an hour while we got the rest of our food ready to serve to plenty of hungry guests.