Birthday parties are perhaps one of our most common events to cater for, however that never makes them any less special to attend. Who doesn't enjoy a good birthday celebration?! Us at Hog Roast Wallasey most definitely do! And we had a blast when we catered for Karen's 70th birthday party last Wednesday with a Hog Roast Wallasey. After a tough couple of years due to poor health, Karen only saw it right that she really went all out for her 70th birthday inviting around 80 family and friends to a party at a local church hall which she had hired out. Church hall's seem to be making a come back as a party venue in recent years and it isn't difficult to see why – they have such fantastic space and can hold a large number of people, usually right in the heart of your hometown! This particular church hall had been beautifully decorated from the top to the bottom by Karen's lovely grandchildren. They had adorned the place in brightly coloured balloons, personalised birthday banners, a fancy dress DIY photobooth and delightfully decorated tables and seating areas where guests would soon be tucking in to our delicious and tasty slow cooked food.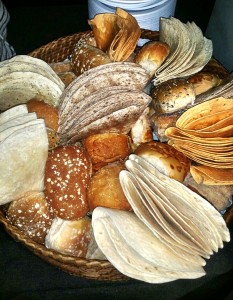 As ever, we arrived early to the venue in order to get things set up and start slow roasting our free range pig over flickering flames which were extremely welcoming for myself and my staff as we worked in the little garden area behind the church on such a frosty November day. Slowly turning the meat over the flames for several hours allows us to achieve perfection – succulent, fall off the bone meat on the inside and mouth-wateringly crispy crackling on the outside. We were serving Karen and her guests our classic Hog Roast Wallasey menu which comes with freshly baked bread rolls and our favourite accompaniments of apple sauce and sage and onion stuffing. A truly home comforting affair!
Before long, guests were arriving to bubbling champagne, music and a couple of nibbles to set their appetite for the tasty hot food we began to serve. We are often required to cook outside the venue although sometimes that area isn't big enough to allow us to serve the guests here too, so at this point we move inside with our freshly cooked delights and serve up buffet style, usually to a long line of eager and hungry guests as was the case at Karen's party! After serving up seconds and a couple of thirds we began our clear up, always ensuring it is quick and as disruptive as possible allowing guests to continue to party and celebrate!