Christenings are becoming more and more popular for us here at Hog Roast Barnston. What was previously an event reserved for a cold sandwich buffet with a couple of sausage rolls and volavonts is quickly turning into  a real celebration complete with slow cooked meats and home made tasty sides! And so it should be!
Now, not only is a christening a precious event already but for this particular christening in Barnston we were celebrating the christening of not 1 but 2 little ones; twins Jack and Emmy. The twins parents Gareth and Laura had explained to me that they had been in and out of hospital a lot with their newborns in their first year and so wanted the christening to be a real big celebration with family and friends! After the ceremony at a local church, the party was held just down the road at Gareth and Laura's beautiful farm house. I'm a real lover of bringing our catering services to people's homes. Everyone is so relaxed and laid back in their own environment which is why I enjoy it so much. However, Gareth let slip to me that it also enabled Mum and Dad to have a few beers when the twins were down for a nap, meaning they didn't have to worry about driving home later!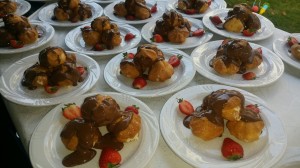 On this particular sunny Sunday afternoon, we were serving up our slow roasted lamb, generously seasoned with lots of fresh rosemary and served with mint and a comforting mustard and dill sauce. We served this up with a selection of scrumptious seasonal vegetables a personal favourite of mine, warm new potatoes in an indulgent herb butter. Gareth asked us for a little break between the main and pudding to allow people to let their food settle a little bit. A lot of guests assured me they couldn't manage a pudding after all the food – however it should be noted we had a very long queue for our decadent chocolate profiteroles when dessert time came around and no leftovers! Another successful catering event by the Hog Roast Barnston team, full tummies and happy, satisfied guests. Nothing beats that!