Today I went out to a private garden party where friends and family members were celebrating Jean's 60th birthday. This morning, as I made my way to the party with the hog roasting equipment, the sun was warm, the skies were cloudless and the birds were all singing. It was a perfect summery day to do some quality catering for a great group of people. Jean's husband Robert had organised the hog roast in Hooton as a surprise, so her face was a picture when I appeared with a huge, fresh pig ready to be cooked to perfection. The couple had once thoroughly enjoyed one of our spit roasts at a wedding and often talked about how it had made the day so much more special.
I set up the catering gazebo and hog roast machine while Robert set up a long red carpet to welcome their guests to their back garden! It takes several hours to slow roast pork to perfection, so I got to work. To accompany the mouthwatering pork, we had brought along soft, floury baps, stuffing and apple sauce, as well as lots of crisp salad and condiments. We pride ourselves on attention to detail, as we know how important special occasions are with family and friends. The table set, the tasty meat cooked right in front of you, everything you need to enjoy the food right there – we want you to be satisfied customers again and again.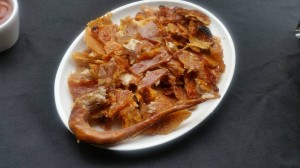 At serving time, the gazebo was surrounded by hungry guests licking their lips and commenting on the wonderful aromas around them. When I sharpened my knives to start carving the meat, there was even a round of applause! The best thing about this job is usually the smiles on people's faces; as Jean's guests tucked into our delicious meat, their smiles said it all. I think I served a record amount of crackling today! I lost count of the number of people who asked me about DIY roasts or requested a bit of cooking advice, let alone the sheer amount of times I was thanked for helping to make the day a huge success. Jean's birthday will be the talk of the town for months to come, I'm sure.