Hog Roast Pensby often caters weddings for happy couples, providing delicious food that they can enjoy together with their guests and helping to ensure that the day goes without a hitch. Our professionally-trained chefs and team members are highly adept at creating culinary delights that can be devoured by everyone and that includes covering varying personal tastes as well as dietary requirements. So when you book with us, you can be sure that all of your guests can eat our food, and we know that they will love what we make out of fresh, local ingredients, just as much as you will.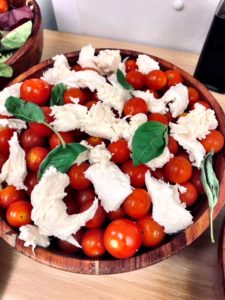 For Patricia and Stephen's big day, they asked Hog Roast Pensby to create a simple menu of a main course of pigs in buns and two sides. We have all kinds of additional dishes on offer, and the couple asked us to put together two fresh salads, one full of tomatoes and the other a Greek salad with lots of olives. They also asked us if we could provide a vegan option, which we certainly can. Our chefs can whip up something tasty on the day, like stuffed peppers or mushrooms or our vegan skewers that are full of baby tomatoes, mushrooms, red onion, mixed peppers and courgette. Patricia and Stephen decided on the latter, knowing that their vegan guest would love such a treat.
On the morning of their nuptials, our Hog Roast Pensby chef and team made their way to the hotel venue and set up our equipment inside the huge marquee. We often cook inside, as long as there's enough space and ventilation, and on this day the guests would benefit from the amazing aromas inside the tent, created by the hog that would sizzle away in there for several hours. First our chef had to prepare the meat by scoring it, adding water and plenty of salt, and that was it then, roasting the day away while we kept an eye on it.
By 2pm, the happy couple arrived at the hotel along with their guests and they couldn't wait to feast on our amazing food. By teatime, the hog had been stripped completely clean and the vegan guest had made short work of our tasty skewers.