It was day of glitz and glam for the team at Hog Roast Prenton this week, as they catered for the creative minds behind a popular day time soap. We were first contacted by Stephanie, a producer for the show. Due to a scheduling mix-up, the filming of a few scenes needed to be done at a new location, which meant they needed a last minute caterer. Stephanie remembered us from a party she once attended, for which we provided the catering.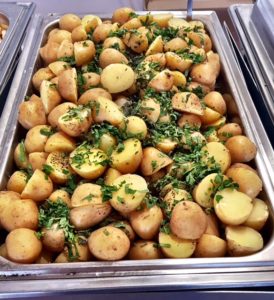 We spoke with Stephanie over the phone about the details of her event. There would be one hundred and forty eight members of the cast and crew on set that day, they needed everybody fed well and they needed them all to be fed within the space of an hour. We suggested a Hog Roast buffet complete with a selection of sides and sauces, to be served on high quality disposable plates, followed by a course of desserts – also served buffet style.
It was a drizzly day when our two man team from Hog Roast Prenton, arrived on set. When they were shown to where they'd be working, they worked together to set up the gazebo. The chef laid the Hog onto the machine for roasting. A few hours later, once the Hog had roasted to a golden hue, and the cast and crew had worked up an appetite, they queued up to be served. In addition to their portion of meat, the guests also had the option of warm new potatoes in butter, and a Green leaf salad.
Once all the guests had been served, the chef and the catering assistant laid out the desserts – creamy individual cheesecakes – onto a serving table, for guests to help themselves to. With nothing else left to do, the team from Hog Roast Prenton tidied away their mess discreetly and disposed of their waste offsite.