Event catering can be expensive- but great food doesn't have to break the bank! Here at Hog Roast Hoylake, we offer 3 main types of catering, each with different price points. This makes our catering affordable and accessible for a wide range of events, including weddings, birthdays, corporate dinners and more! Keep reading to find out how Hog Roast Hoylake can cater to your budget!
Delicious, cooked meats served in fresh bread rolls and wraps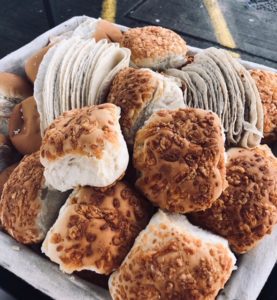 Our first catering style includes a variety of cooked meats, such as slow-roasted lamb, whole-roasted turkeys and chickens, and spit-roasted pork, served in a selection of bread rolls and wraps. This is a great option for large events, such as team training days or festivals. Your rolls and wraps are served warm and can be accompanied by your choice of side dishes and salad options.
Buffet style catering
Buffet style catering is similar to the option described above, although you have a wider selection of dishes available. Your catering will also include a wider variety of side dishes, with options including jacket potatoes, homestyle chips and potato wedges. Our buffets can be served indoors or outdoors, depending on your venue, and are a great catering option for family gatherings and birthday parties.
Formal dining
Our formal dining option includes food served tableside by our waiting staff, which makes it stand out from our other catering packages. You can choose a variety of dishes for your three-course meal, which includes a starter, main course and dessert. Your package can also be upgraded to include canapes and champagne as your guests arrive, as well as fresh tea, coffee and mints to end the evening. We recommend our formal dining package for corporate dining events and weddings.
Whatever your budget may be, hopefully, this blog post has shown you that delicious catering doesn't have to cost a fortune! Instead, we offer a range of catering options to suit any budget. Do you have an event that needs catering? If so, simply let Hog Roast Hoylake know your location, party size and date and we can get to work creating your perfect menu!