Here at Hog Roast Fairfield, we cater for all types of events. Whether it be a big summer garden party, a wedding, or even a children's birthday. We also hire out our professional machines to customers that prefer to do it themselves. We were contacted by Anna to put on a buffet for her at a private garden party she was hosting.
The chef and I arrived at the venue early so we had time to set up and make the buffet look well presented. After being allocated a space to set up, we immediately started preparing the food.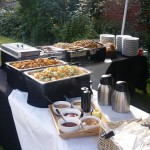 The guests flooded towards the perfect display of food we had to offer, with the tasteful smells they were all eager to dig in. When everyone had settled at their tables and began to eat, there was instantly a gust of excitement. Everyone was overjoyed and non-stop praising the delicious foods they were devouring, "succulent", "juicy" and "exquisite" were a couple of comments we received from the guests. Everyone was coming back for more, unable to stop, even if they were almost full. There was a great mass of meat, enough to fill each plate more than twice, as at Hog Roast Fairfield, we like to exceed expectations of customers and as well as making the food the best quality, we also like to provide great quantities.
As the event was coming to a close, we began to clear the surfaces thoroughly, make sure everything was packed away and disposed of all of the rubbish. As there was plenty of meat left, we packed it and gave it Anna, as that is what Hog Roast Fairfield like to do for our customers after using our services. After we had finished cleaning, it was time for us to go, leaving the venue clean and tidy for Anna and her guests to continue their fun in a relaxed environment.