We have been so busy last few months orders are coming in daily here at Hog Roast Caldy and we just seem to get busier and busier each and every year. We catered for a corporate event early last week for a client we had never had the pleasure of catering for before.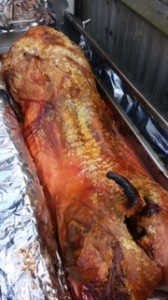 We arrived early morning and met the director he welcomed us into the office and showed us into a large room to cater from. We were to serve at noon and the tables were all laid out we wasted no time and dressed the tables in white linen and the finest cutlery and crockery meanwhile out chef placed a succulent pig on the machine and within minutes it was happily spinning away cooking. The aroma of the meat cooking is something that cannot be put into words it just takes your breath away. We set up the side table and began to make the side dishes, we placed corn cobs onto sticks to roast along with some vegetable skewers we drizzled carrots and parsnip in honey marinate which really brings out the sweetness in the vegetables and makes a wonderful tasty glaze too. The pork was coming along nicely as we boiled some baby new potatoes made a large jug of mint sauce and the most exquisite gravy using the meat juices. For dessert we made our famous individual fruit trifles made fresh that morning and kept nice and cool in the van until it was time to serve.
The guests arrived and our staff welcomed them in and they took their seats and all watched in amazement as our chef sharpened his knives and began to carve the Hog Roast Caldy. He makes it look so easy the meat cuts like butter so moist and tender and not at all dry, as some pork can be our machines cook the meat perfectly time and time again. Our staff served the guest's lunch and we had lots of lovely feedback and as our staff went to collect the plates when they had finished they were all empty! Seeing plates empty makes it all worth while no words need to be spoken the empty plates say it all.