We had a long drive ahead us on Sunday morning and the weather looked very unsettled. We were heading east to cater for a birthday party and catering for 150 guests with Hog Roast Leasowe. We arrived there in plenty of time- we like to arrive early so we are more than prepared. Catering in a barn so we had more than enough space and shelter in case the weather did take a turn for the worst. Lamb and beef were the meats ordered and to accompany the meats we were making some crispy roast potatoes spicy potato wedges!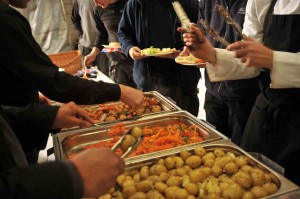 Whilst the meats were cooking the birthday girl arrived a lovely lady and it was her 60th she had been to an event hosted by us some months back and put an order in with us there and then. We made a huge bowl of creamy coleslaw too using the freshest vegetables and our own unique creamy sauce. We made a lovely salad using lots of lovely colourful lettuce laves some cucumber and some nice cherry tomatoes in a lovely dressing. We also had brought with us some lovely freshly baked rolls and wraps we bring a huge assortment with us and always baked fresh on the day. When the meats were cooked our chef carved the lamb and beef in to nice thick sliced and set them aside on huge plates just as the guests arrived. We placed the meats into the bread and the guests helped themselves to salads and all were amazed and kept telling us how amazing the Hog Roast Leasowe tasted. We had a few enquires about Easter week and that is turning into a very busy week for us. We cater all seasons of the year and never have a free week ever! The guests thoroughly enjoyed the food and by time it was over every single bit of food had gone now that makes us happy when we see that.
As we set off home we told the two ladies that asked to book us to drop us an email and we would be happy to assist. And the birthday girl her self thanked us for a lovely day which was our pleasure.