Our Hog Roast New Brighton professionals are highly adept at catering any kind of party or event that you might be thinking of organising, including birthdays, engagements, weddings, retirements, christenings and corporate hospitality. We can also easily cater festivals, fetes and garden parties and everything else in-between and nothing is too small or large. No matter what type of special occasion you may have in mind, we'll help you to celebrate or commemorate it, and that's regardless of the number of people you might be inviting or the location of the party or event.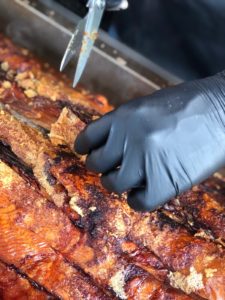 Hog Roast New Brighton is often asked to cater at our customers' homes, in both back gardens and yards, and because our hog roasting machines are effortlessly manoeuvred, highly portable and run on gas bottles so we don't need mains electric to cook, this is so easy for us to do. When Simon asked us to roast a hog in his back garden so we could make dozens of pigs in buns for him and his guests recently, this is exactly what we did, and even though the weather was dreary on the day, it didn't spoil anything for Simon or any of his guests.
When Hog Roast New Brighton cooks you a traditional centrepiece hog roast, it's with love and plenty of attention to detail, and our chefs have been doing it for so long that it's second nature now. Making fabulous pigs in buns is undoubtedly our most popular way to serve a hog roast, and that's after we've thoroughly prepared the meat in advance, on the actual day of your special occasion, so it's fresh as can be, and then it sizzles away for hours on end until we get a crispy, browned outer and tender and moist meat inside that just melts in the mouth.
On the day of Simon's get-together, our chef and assistants ignored the rain and cooked up a storm from underneath our trusty gazebo, and once the hog was perfectly cooked, we sliced it up to fill the bread rolls and wraps. Once we had plenty of crackling and meat crammed inside, we topped with our special apple sauce and stuffing and it was finally time to feed the hungry horde.