Hog Roast New Brighton gets a lot of requests to cater for fancy dress parties and they are always loads of fun. The last fancy dress party we catered for had a pirate theme and we couldn't wait to see the weird and wonderful costumes the guests would turn up in! The pirate party wasn't just taking place for the fun of it though-it was being held to raise money for the Lifeboat Association. A local waterside pub had generously given the event organisers the use of their function room for the night, and with views of the marina through the floor to ceiling windows, it was certainly a fitting location in which to feed 150 budding buccaneers!
Ever the professionals, Hog Roast New Brighton's own culinary corsairs resisted the urge to join in the fun and made the sensible decision not to don tricorn hats and eye patches, instead choosing health and safety over an amusing photo opportunity. And with so much hard work to do preparing everything from scratch throughout the day, we couldn't afford any distractions from the task at hand! The locally-reared pork, which had been roasting slowly all day under the expert care of our on-site chef, was smelling delicious and was ready to be carved as the room started to fill up with wannabe Captain Hooks and Jack Sparrows. Confident that he was infinitely more adept with a blade than the sword-bearing captains of the high seas that confronted him, our chef made swift work of the tender meat and with a final flourish, it was ready to be served.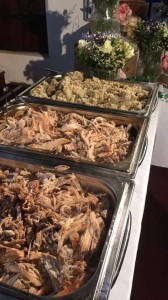 The invasion of the serving table was quite a site to behold as the guests set their course for the succulent pork and crispy cracking, and there was certainly no danger of anyone coming down with scurvy after tucking into our selection of fresh, nutritious side salads! The feast we prepared continued to be plundered throughout the evening, as the pirate party was in full swing, and as well as being fantastic fun, the event also served its noble purpose and raised a lot of money. With Hog Roast New Brighton at the helm serving great food for a great cause, pirates have probably never had such a good time on dry land!