It may not feel like it with the weather lately, but the summer season is underway and Craig, the owner of a local caravan park, decided that this year he wanted to step it up a gear with the level of on-site entertainment that he offered his guests, starting with the food. After years of doing barbeques with varying degrees of success, he realised he needed to upgrade his cooking equipment and offer the visitors to his campsite a superior experience than the one he had been offering in recent years. After recently enjoying a hog roast himself, he thought investing in a hog roast machine was the way to go, but he didn't know where to start and what type of machine would meet his needs.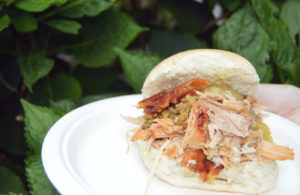 Luckily for Craig, he contacted us here at Hog Roast Ormskirk, and after listening to his requirements, we immediately knew that our Platinum machine could give him everything he wanted and more! When Craig found out it can cook two whole pigs in one go, as well as a range of other meats, jacket potatoes and vegetables, he knew he was on to a winner because his two main priorities were finding an easy way of cooking for a lot of people in one go, and providing them with superior-quality, fresh food that was far from the average fare you would expect on a caravan site.
Craig told the Hog Roast Ormskirk team that he hit the ground running as soon as his machine arrived. After realising how easy it is to use, he was up and running in no time and cooking up a storm on a regular basis from day one! Craig was also relieved to discover that the Titan can be used just as effectively indoors, which meant he could still treat his guests to a great feast whatever the weather!
The Titan has given Craig the extra edge he has been looking for and word has spread about his mighty hog roast feasts. He thanked us here at Hog Roast Ormskirk for our expertise and for providing him with such an awesome piece of cooking equipment!