When you're looking for catering services to provide the food for your party or event, you need to know that you can rely on them to be there when they say they will, as well as to make delicious food from fresh, high-quality ingredients. Hog Roast Newton-le-Willows is this and much more too. Our professional team will do their utmost to ensure that your special occasion is catered to the highest standards, regardless of the formality of the occasion or the number of people that you're inviting, and we offer lots of additional and alternative options, so you'll know that all of your guests will get to eat amazing food, and not just the majority.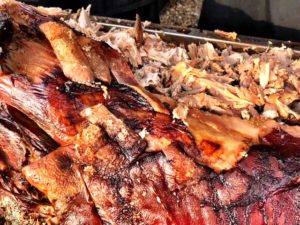 Hog Roast Newton-le-Willows recently catered a private family party for Gerry, who had asked us to make our pigs in buns for the main event, but he also asked us to create a gluten-free dish for his wife. When we asked him if she would also like to try our pigs in buns like everyone else, he told us she really would but they had both assumed they weren't suitable for her diet. However, as long as we took along gluten-free bread rolls or wraps, she could definitely eat our take on hog roast rolls, as all the other ingredients are already suitable. Gerry was happily surprised and couldn't wait to tell his wife.
It came round to the day of the party on Saturday and our Hog Roast Newton-le-Willows chef and catering assistant arrived early afternoon in order to set up our equipment and then prepare the meat for its roasting. Before long, the medium-sized hog was sizzling away in its own juices and it did so for hours on end.
Later on in the day, our team prepared the ingredients for the pigs of buns, including our own tasty apple sauce and sage and onion stuffing, plenty of condiments and the bread rolls, including the gluten-free ones which we kept separate. Once the hog had finally cooked to perfection, we carved off the crackling and sliced the meat into trays and then by 5pm, it was finally time to feed the hungry guests.