If you're thinking of hiring caterers for your special occasion, Hog Roast Prescot will help you to celebrate or commemorate in the best way possible – with tasty, wholesome food served by professionals who care. All our combined years of experience (from our fabulous, highly-trained chefs to our wonderful support team of dedicated catering assistants) will spend your party or event providing top-notch service while serving lovely food that we make using fresh, high-quality ingredients, including our meats. Whatever kind of menu you want to feature, whether an intricate one for a formal affair like a posh wedding or business conference, or a simple main for an informal gathering at home with your friends and family, we've got you covered.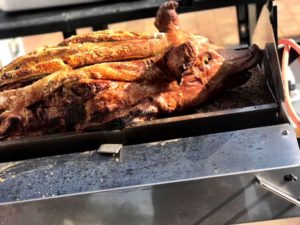 But what if you're inviting guests with allergies or intolerances or who are on a special diet, like vegans or vegetarians? There's no need to panic as we always make sure that everyone you invite gets to eat our gorgeous food, just so long as you give us notice beforehand.
Alison recently booked Hog Roast Prescot to cater her parents' wedding anniversary in the grounds of a local village hall, asking us to make our pigs in buns for most of the forty guests. Nevertheless, she needed a gluten-free option for one of her sisters, who was disappointed, thinking that she wouldn't be able to eat our famous hog roast rolls like everyone else. Ours are actually suitable, however, as long as we bring along additional suitable bread rolls, so Alison was relieved that everyone would be well-fed on the day.
It came round to the anniversary party on Sunday afternoon, and our Hog Roast Prescot team arrived at the venue a few hours before service, ready to prepare the locally-sourced meat from scratch. After scoring it and adding plenty of water and salt, our chef set the temperature to low on the hog roasting machine and it then sizzled away for a good five hours.
By the time the guests had all arrived, the hog was ready to carve, our delicious apple sauce and stuffing were dished up ready to add to the fresh bread rolls and wraps, and we had a few special bread rolls for Alison's sister set aside for her and by 5pm, it was time for everyone to eat our amazing pigs in buns.