Moving into a new house is a big milestone in your life, whether it's your first time or you have moved 10 times before! When you find yourself preparing to move, it is common to enlist the help of your friends and family where needed, with help packing, moving, and unpacking. Because of this, you may want to thank them for all of their help and introduce them to your new home in style, with a housewarming party. Here is just one of the many ways that Hog Roast Woodchurch can cater for your housewarming party…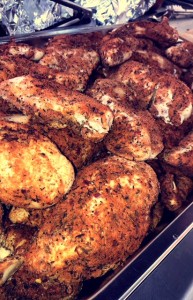 Ella and Henry moved into their first home together at the start of 2021, with the help of their family and friends. Since they had never moved by themselves before, this help made the world of difference in ensuring that the move went as smoothly as possible! After a few months of settling in and unpacking their new home, the couple was ready to host a housewarming party to thank their family for their generosity. For the catering, they had decided to host a dinner party, with meals provided by Hog Roast Woodchurch's gourmet meal delivery service.
Choosing our meal delivery service allowed Ella and Henry to have complete control over their event, deciding when and how the dinner would be served. This meant that they could enjoy their evening without planning around our catering, and without the need for additional people to be inside their new home.
On the day of the party, Hog Roast Woodchurch delivered the meals to their home, using our contact-free doorstep delivery service. We provided a variety of meals, including whole-roasted chickens, slow-roasted pork, and beef sirloins, ensuring that every guest had a meal of their choice to enjoy.
Whether you wish to host a formal or informal housewarming event, Hog Roast Woodchurch have a menu that is right for you. With a variety of catering styles and a large choice of menus, we have something to suit any party and a dish for every guest to enjoy. To book your catering today, simply let us know your party size, date, and location.