Last year, Patrick proposed to Louise during a beautiful weekend away in the heart of London. After four years together, they celebrated a fantastic engagement and couldn't wait to be married. Almost immediately they started to plan their wedding and booked the venue for their July wedding. However, for both Patrick and Louise, it was their second marriage and they both had grown-up children so they preferred to keep their wedding more low-key. They kept it personal by only inviting close friends and relatives and in addition to this, they didn't want a huge fancy wedding and preferred to keep it pretty simple. Perfect for their wedding was the Hog Roast Caldy and they booked them well in advance to secure their tasty hog roast for their big day.
On their July wedding day, the Hog Roast Caldy arrived at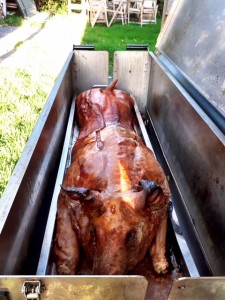 their venue before the guests and set up their hog roast on the lawn so it could be seen as they guests pulled up. They got the go-ahead from the wedding planners that the bride and groom had set off from the church and that their guests were all on their way. Patrick and Louise arrived and were greeted with a huge explosion of petals and camera flashes. The hotel had laid out a beautiful heart-shaped arrangement of champagne glasses and the guests swept them all up quickly and made their way out onto the lawn, descending on the fantastic spread laid out by the Hog Roast Caldy team.
With all the guests holding a flute of bubbly in one hand and a plate filled with their top picks of the Hog Roast Caldy buffet, there were smiles all around. The guests toasted to the bride and groom who were very pleased with their catering choices and expressed how much the hog roast had a put a cherry on top of their big day. In addition, the fantastic affordability of the hog roast meant that Louise could spend a little bit more on her wedding dress and they could secure the warm, cosy venue that was perfectly suited to their romantic day