Its October which for many people means one thing… the countdown to Halloween! Here at Hog Roast Liverpool we love this event as it brings everyone together for some light-hearted fun and in most cases some good food. Hog Roast Liverpool believe that Halloween should be about more than just chocolate and sweets which is why we were thrilled to be asked to cater a delicious hog roast for Ashley's Halloween Party.
Ashley, a salesman from Liverpool, wanted to organise a party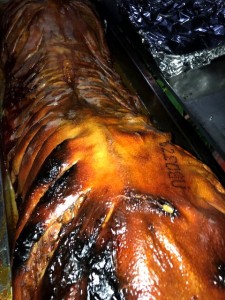 that would bring his friends and family together to share in his love for Halloween. Since growing up Ashley told us he really misses being able to go trick or treating and enjoying this time of year so by hosting his own party he wanted to bring some of that nostalgia back to his friends and family too. He had planned a full night of scary movies, Halloween games and a fancy-dress competition and hired us at Hog Roast Liverpool to provide some delicious treats in the form of our hog roast.
We arrived at Ashley's house mid-afternoon to allow us to set up and get cooking before it got dark and all of the ghouls/guests arrived. We scored the hog and massaged in plenty of salt to make that perfect crispy crackling Hog Roast Liverpool has become known for and got to work on the accompaniments. We had lots of seasonal vegetables and our head chef even made a seasonal pumpkin pie for dessert which Ashley was extremely grateful for as it meant he had an excuse to carve even more pumpkins beforehand!
Everything was ready, and all we needed now were the guests. We were amazed at the lengths people had gone to get their costumes right and were suitably scared when Ashley decided to jump out and surprise us as we began to serve! Happy Hog Roast Liverpool Halloween!