Romance was in the air today at Jon and Christina's summer engagement party. The celebration was held at Jon's parents' home and the back garden was filled with romantic bunting, streamers and balloons. Everything was covered in hearts and words of love and there were photos of the couple decorating tables and walls. They met while learning how to sail, so there were cute wooden boats in the garden, each to be filled with plates, glasses and even some of the buffet food.
F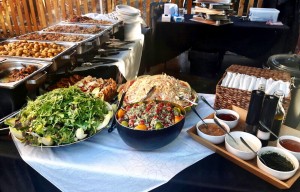 or us at The Spitting Pig, it was all about the sweet sight of our hog roast in Meols cooking and the delicate aromas filling the air! Jon and Christina had decided on our Private Party Menu 5, which is suitable for a formal buffet, whether indoors or outdoors. We arrived nice and early at 6am to the sound of the birds singing and set up our marquee and professional roasting machine. For the main dish, the couple had decided on our very popular hog roast option and a homemade vegetarian quiche alternative. The huge hog would have to cook in its own juices for several hours, so we prepared it by scoring it in diamond shapes, adding some water and covering it in salt, then turning the roasting machine on.
We continually checked on the pig to ensure it was cooking well, then a couple of hours before service, we started to set up our serving tables. We prepare everything fresh on the day, including the bread, salads, stuffing and apple sauce, so we also began to get on with this. There was myself (the chef) and my catering assistant, as well as some waiting staff, so plenty of people to help get ready for the hungry hordes. About half an hour before lunch would be served, we opened the machine and lifted the pig into place, to a round of applause from arriving guests – all excited for the hog roast in Meols. Canapés were served while I began to remove the crackling and crowds began to form around the marquee. People always love the spectacle of a freshly-cooked pig.
I jointed up the pig as the waiters began to serve the starters to the now-seated guests and then the buffet meat and quiche service finally began. I lost count of the compliments we got today and the amount of guests who returned for seconds or more. How I love my job!