We had a whale of a time at Jonah's 10th birthday party over the weekend – he actually had a whale-themed celebration! While we were to provide our delicious hog roast in Thurstaston, the rest of the party would be more about the sea and marine mammals, but Jonah's parents had loved our catering services so much in the past that they wanted us to be involved in this celebration, too. As a chef, that's always wonderful to hear, so I was excited to plan the menu with the family in advance of the day.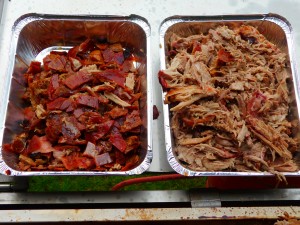 Our simple yet tasty pig in a bun consists of a hog that we roast for several hours, complete with crackling after salting it before cooking. There's also fresh rolls, yummy apple sauce and our excellent stuffing and we bring along a range of condiments to your party, too. Many guests like some crackling inside the bun with the meat and everything else, but some like it on the side, and we are always happy to do both.
The day of Jonah's birthday came round and we arrived at the house nice and early to set up the gazebo in the back garden., There were around 40 guests invited – lots of children with their parents and family members of course, so we had a smallish pig weighing around 35kg, which can comfortably feed up to 50 people. Jonah's parents had also asked us to provide some nice, fresh salads, which we prepare on-site on the day and they had some other buffet food prepared for their guests, too.
We roasted the pig for a few hours, so when the guests began to arrive, they could smell it before they even saw it. Many people poured into the back garden to compliment us on the fantastic aromas, and even neighbours started peeking over the fence to see where the delightful smells were coming from. By the time the guests had all arrived and the birthday boy appeared in his fun whale costume, it was time to carve the hog. By the end of our service, after many helpings of seconds and more, it was time to toast Jonah and sing happy birthday. As he blew out the candles on his whale cake, we discreetly started to clear away, happy with another repeat customer enjoying our services once again.