The British summer continues to bring warm days with it but also frequent showers and the odd cold evening, too. Don't let that put you off hiring our catering services, however, or even from hiring a machine from us, so you can have a hog roast DIY at home. Whatever the weather, you can still enjoy a hog or spit roast. Shelter the hog roast Brimstage under a gazebo or marquee outside and it doesn't matter if it rains. In any large, well-ventilated space, or you can even serve indoors.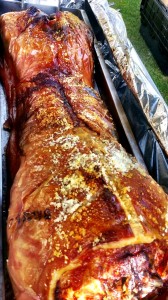 We have several different hog roasting machines that you can hire for your own party or event, including the Platinum, Olympian, Hogmaster, Hogmaster Pro and the Titan. Our customer Marie and her husband Mike hired our top-rated commercial Titan machine over the weekend, as they were thinking of buying one for their wedding catering business so they could start producing hog roasts in Brimstage. We would always recommend that you try before you buy, to see just how easy one of our machines is to use and how it can save you money by cooking in this way. It's a big investment, so we want you to be happy with it.
Marie and Mike currently provide hot food catering for local weddings but looked into using a hog machine to expand on what else they can provide for their customers. The Titan hog roast machine that they rented from us is ideal for large social occasions like weddings, though if you do have smaller events it can still be used for those, too. Plus you can cook other joints of meat as well as hog, as we provide spit roast and barbecue attachments.
When we delivered the Titan to Marie and Mike, we walked them through how to use it, as we always do. You can cook a pig that's up to 75 kilos in weight with a Titan and when hiring a machine you can either source your own hog or we can provide one. For those new to hog roasting, you need to score the pig, add water to stop it from drying out and add salt to the skin to make the lovely crackling. We left the couple with the machine and when we picked it up on Monday, they were overjoyed with it and have already ordered their own.