Here at Hog Roast Neston August always signifies two things; warm weather and weddings! As August is one of the busiest months for weddings we are always booked up months in advance and spend our summer planning the best hog roast wedding menus we can for our clients.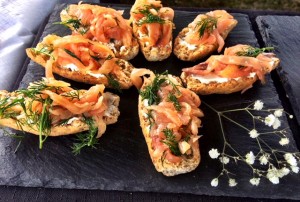 However, often we get enquires from couples concerned that a hog roast may not offer exactly what they want on their special day or with concerns about how Hog Roast Neston can cater to all their needs. To them we say there is nothing to worry about! Hog Roast Neston are experienced wedding caterers and we are fully flexible and so able to accommodate all your needs no matter how many guests, dietary requirements or venue!
This was the case with Anne and Will who had enquired about a more formal, traditional wedding menu. They had sampled one of our hog roasts before at a friend's birthday and thought the food was delicious so had their hearts set on something similar for their big day. Their only concerns were how we would be able to scale up the hog roast and of the possibility of it being a sit-down meal as their friend had simply opted for a hog roast sandwich affair. We quickly eased all their concerns and reassured them that we are able to tailor our catering to our client's needs. With concerns behind them Anna and Will settled on one of our most formal dinners with a drinks reception and hand-crafted canapes which included Wild Mushroom Bouchees, Haloumi Kebabs and tiger prawns. This was followed by three courses and then tea and coffee whilst the wedding cake was cut. We cooked three meats for this feast, a slow roasted pig, lamb and a side of beef so there was something for all tastes.
 It is safe to say the guests were impressed, many of whom had never tried a Hog Roast Neston before but by the end of the night were singing our praises and some even enquired about hosting their own hog roasts in the future. Anne and Will had a beautiful day and said it was made all the more amazing by our delicious food, they couldn't believe they ever had any doubts!
All the best Anne and Will and we look forward to catering for your anniversary next year!