Engagement parties make up a significant amount of the Hog Roast Neston events calendar, but each event is just as magical, unique and special as the happy couple. For this special event the team worked closely with the clients to make sure that the catering package they selected met their requirements and their budget, Hog Roast Neston always pride themselves on providing the personal touch to each planned event.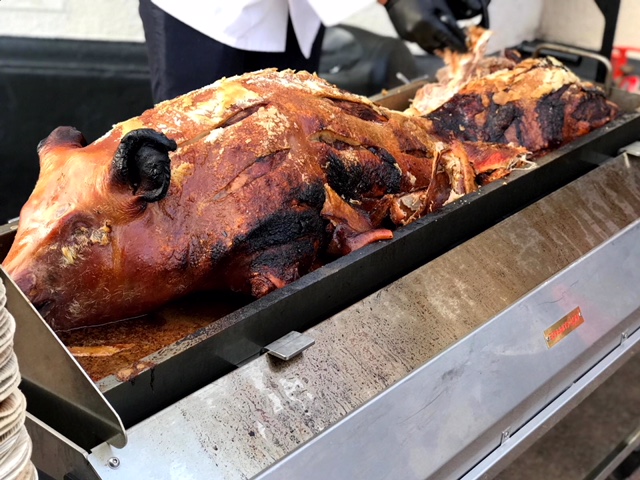 The clients wanted a fun and filling buffet for their 30 guests, and the Hog Roast Neston team were only too happy to deliver. There were many generic catering packages that suited the couple's needs, but by working with the team they managed to create a bespoke, personalise catering package that met their budget and requirements. As part of the catering package the clients selected the team would prepare and cook all the food fresh at the private home venue, using a gazebo that had its own lights.
The menu chosen by the clients was based around the Classic Hog Roast. The main attraction in the buffet gazebo was a classic, slow roasted pig complete with apple sauce, homemade stuffing and crispy crackling. Accompanying this was Chefs choice of three salads, all freshly made in the hours leading up to the event. There were also warm new potatoes in herb butter, as well as a selection of soft gluten free rolls and an assortment of dips and sauces.
When the party began at 1:30pm the food was almost ready and was being crafted under the excellent eye of the Hog Roast Neston chef, so when 2pm arrived the buffet was ready to be enjoyed. As the guests made their way through the gazebo they could graze and nibble while loading the disposable crockery (provided as part of the catering package by Hog Roast Neston) high with the delicious dishes.
The clients were absolutely delighted. The event was a massive success and they're looking forwards to working with Hog Roast Neston again, possibly as the catering for their wedding celebration.