This weekend, football fans from all over the world sat down and tuned in to watch two English teams, Tottenham Hotspurs and Liverpool, compete for Europe's top prize, and perhaps the most coveted trophy in the sport – the Uefa Champions League Final. Events were planned up and down the country to facilitate viewing the final, and one of them was that of our most recent clients Tom and Nicky, who had asked their university friends to come over and watch the game over a hog roast.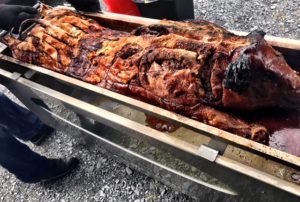 Tom and Nicky spoke with the team from Hog Roast Neston about the particulars of their event, such as the choice of menu, number of guests and desired serving time. There would be twelve guests who would be fed at half seven, so they can finish eating for just when the match would be about the kick off. At half time desserts would be served.
The event took place at Tom and Nicky's home, and our team from Hog Roast Neston were on site nice and early to get everything ready. We slow cook all our meats over the course of several hours, which is the key to our success, so we always make sure to arrive at the venue of any event with plenty of time to spare. On the menu tonight would be the Hog Roast accompanied by Cajun Spiced Sweet Potato Wedges and a Green Leaf Salad. Our chef butchered the hog and laid it on the machine to roast whilst he prepared the sides and veggie options of a Halloumi wrap with tangy tzatziki sauce for two of the guests.
A few hours later and all the guests had arrived, dressed smart, and were ready to enjoy the final. They enjoyed a drink during the build-up, and were soon served their Hog Roast buffet style onto real plates by our chef. Everybody had cleaned their plates by the time kick off came around, and our chef set to work preparing the desserts. They were served at half time, by which point Liverpool were already a goal to the good.
In the end it was Liverpool who brought home the glory, but there were no losers at Tom and Nicky's event, as all their guests thoroughly enjoyed their meals and the entertainment. With nothing else left to do, our chef from Hog Roast Neston quickly and discreetly tidied away his mess and disposed of any waste offsite.