Hog Roast Huyton recently catered Lilian's 80th birthday party, where family and friends came from near and far to celebrate with her by enjoying one of our sumptuous centrepiece hog roasts. We're often asked to cater birthday parties but a hog or spit roast is actually suitable for any special occasion you're thinking of, including christenings, retirements, engagements and anniversary parties, corporate functions and of course weddings. Regardless of the type of event, the number of people you're inviting and the formality, we use fresh, high-quality ingredients to create lovely, wholesome dishes that you and all your guests will love, and that includes those on a special diet.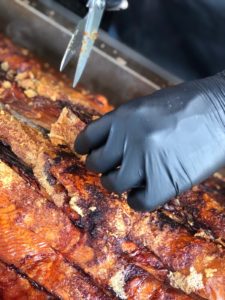 For Lilian's party, Hog Roast Huyton was asked to make our famous pigs in buns, but to also provide a vegetarian option. We often do cater for vegetarians, with delicious dishes such as quiche, mac and cheese, or stuffed mushrooms or peppers, but our most popular option is the ones we made for Lilian's guests on this day – our amazing veggie skewers. We grill halloumi, mushrooms, tomatoes, red onion, mixed peppers and courgette, then serve with pitta bread and our Tzatziki dip, and they are loved just as much as our hog roast rolls.
On the day of Lilian's milestone birthday, Hog Roast Huyton headed to the venue, a grand local hotel, where we set up our equipment and got cracking with preparing the meat. After scoring it all over in diagonal shapes, our chef covered it in lots of water, which keeps it moist, then smothered it in plenty of salt, which turns the skin into crackling. Before long, the hog was sizzling away in its own juices in our trusty hog roast machine, and we kept an eye on it for the next few hours.
By 4pm on this sunny day, Lilian and her guests arrived to the gorgeous smells of the cooking hog, which was resting while we finished cooking the skewers and prepared the ingredients for the pigs in buns. Once the apple sauce and stuffing were dished up, the fresh bread rolls were sliced and placed with fresh wraps and the condiments were all arranged next to them, it was time to serve the hungry guests lots of very tasty food.