Its officially November which means one thing… Bonfire night. Here at Hog Roast Knowsley we love celebrating bonfire night as its an excuse to wrap up warm and get together with family and friends to make the most of the autumnal weather.
This year Hog Roast Knowsley were asked to cater at Knowsley's bonfire night event. Despite the cold weather that was still expected to be a large turn out, so they needed caterers who could provide high quality food for the masses. This is our niche at Hog Roast Knowsley. Our trusty machines can cook a hog for up to 200 people and with dual roasting trays we can more than double that. Not to mention our large and professional team of hog roast caterers mean we can provide for any number of guests – just ask!
For such an event with a large number of people we needed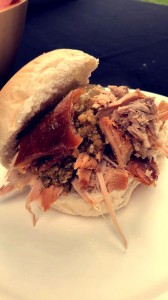 simple, tasty food to please everyone. We settled on providing our signature hog roast served in freshly baked floured rolls for ease of eating. In addition, we prepared some Cajun whole roasted chickens and a couple of legs of lamb seasoned with rosemary and garlic and served with our delicious mint sauce. Of course, we also prepared some delicious sides of baked potatoes and roasted vegetables to keep everyone nice and warm whilst they watched the fireworks. As it was such a special occasion our head chef also made a batch of his famous mulled wine to keep the customers merry!
With the bonfire lit and everyone watching awe as  they munched down on our Hog Roast Knowsley we knew it was a job well done. We even had people come over for second helpings which is something we always encourage. All in all, it was a lovely, festive evening and now the countdown to Christmas really  begins…