Its safe to say wedding season has well and truly hit Hog Roast Heswall! Around this time of year we often find our every weekends booked up catering at weddings around the country and this weekend was no different.
Our first event was catering for our client Saranna's wedding and with a serve time of five o'clock and a guests list of ninety people catering manager James and his wedding catering team would have their hands full.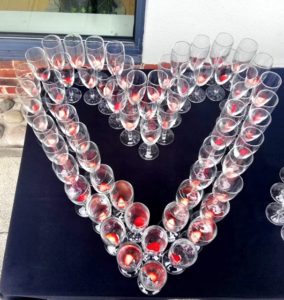 We arrived at the venue late morning in order to set up and get everything prepared for the reception. The venue had been beautifully decorated with flowers and banners and ivory tablecloths and chair covers. In addition, the couple had gone for a rustic feel by having drinks served in wheel barrows and just married signs on haystacks which was lovely touch!
We had been asked to prepare our Hog Roast Heswall wedding menu two option. With this menu you get to choose two different meats, canapes, and sides. Today's meat options were a whole spit roasted lamb and some whole roasted chickens that we would cook over several hours on our hog roasting machine for a serve time of 5pm. We would be serving the canapes slightly earlier as guests arrived, and the couple had gone for a stellar selection consisting of Fillet of Beef, Smoked Scottish Salmon, Haloumi Kebabs and Mini Quiches. Canapes were to be served alongside the drinks reception which had been beautifully arranged and handed out to guests on arrival after the ceremony.
Once everyone was seated, we began serving up the main course. The meats were delicately carved and for the accompaniments we were serving up a lovely crisp mixed salad, homemade gourmet coleslaw and our Chef's own pasta salad!
With everything complete we began to discreetly pack away before wishing the happy couple congratulations and leaving a few of our business cards on the tables. Another successful Hog Roast Heswall!