Hog Roast Runcorn has catered many different kinds of parties and events over the years, including birthdays, weddings, corporate events and school fetes, and it goes to show that a hog or spit roast really is suitable for just about anything you can think of. Whether you're planning a private party or a business function, our hard-working, experienced, qualified chefs and catering assistants will always go the extra mile to ensure that your special occasion is just that – special – and that's with both delicious food and excellent service that we think is second to none.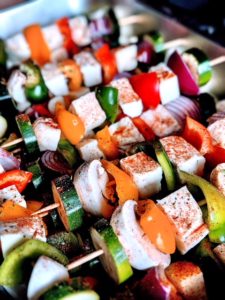 When Hog Roast Runcorn recently catered a surprise 50th birthday party, we helped to make it a great success and that was partly with the fantastic centrepiece hog roast that we freshly prepared from scratch and then cooked at the venue on the day. For Brian's milestone birthday, his wife Sunny had asked us to make our famous pigs in buns at their local village hall, outside in the grounds. With fifty guests of family and friends invited to the do, Sunny knew that most of them would love to be treated to our hog roast rolls, but she also needed a vegetarian option for two of the guests.
We often make dishes for special diets and our chef can whip up something special for vegetarians, like a Spanish quiche or stuffed mushrooms, but our most popular option is undoubtedly our lovely veggie skewers. We grill fresh chunks of halloumi, mushrooms, tomatoes, yellow and green peppers, red onion and courgette, and then serve with pitta bread and a tasty dip, and they are loved just as much as our delectable pigs in buns are.
On the day of Brian's party, Hog Roast Runcorn arrived at the village hall a few hours before we were due to serve, as it takes time to prepare and roast a hog. By 3pm, we had a beautifully cooked hog ready to carve, various ingredients ready to make the pigs in buns, and some freshly-grilled veggie skewers, as well as two large salads and our homemade coleslaw, and Brian arrived to an amazing surprise and some amazing food too.