With the government guidelines preventing us from having full-blown celebrations where we can be surrounded by all of our favourite people at once, we know that many of you have been tempted to skip the parties all-together this year. But truer words have never been spoken than "the show must go on!", and one way to keep events alive, is by doing it yourself.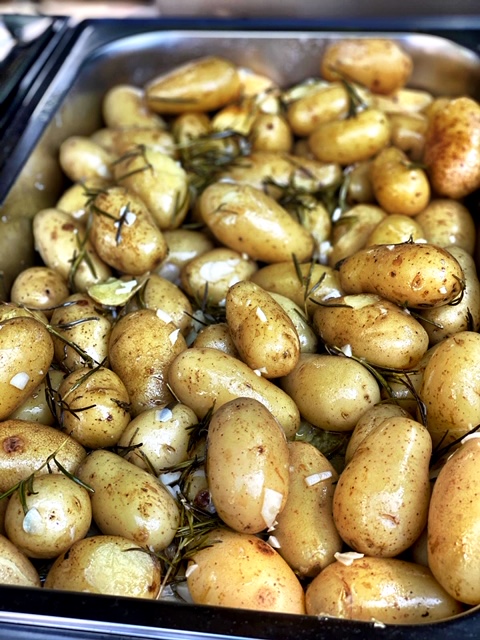 That said, at Hog Roast Leasowe, we also know that planning a party of any scale all by your lonesome can be a daunting prospect. So, when it comes to DIY catering, it can be tempting to put on a spread of oven-cooked nibbles, finger sandwiches and crisps. But self-catering doesn't have to mean boring! Nor does it have to involve you running around like a headless chicken trying to put on a fancy feast for everyone while missing out on all the fun yourself. Sound familiar? It's all about finding the right balance – and that's where we come in!
You see, we're not just your average catering company. Besides having a team of cooking extraordinaires who can whip up tantalising buffets anytime, anywhere, and for any occasion, Hog Roast Leasowe also offers our clients the chance to rent (or even purchase) one of our innovative hog roasting machines for a very reasonable cost. This service has been a game-changer for many of our clients, especially this year, with Kim and Ryan being the latest to test it out.
With their 5-year wedding anniversary coming up, the pair had spent weeks searching for a way to celebrate the monumental occasion, and when they found Hog Roast Leasowe something clicked. The couple couldn't have been happier with the smooth process of booking the rental for one of our smallest machines, for which they received training, and on top of that, a package of fresh, locally-sourced ingredients and a gas canister which our team delivered straight to their door on the morning of the event.
Hog Roast Leasowe was so pleased to hear that Kim and Ryan's intimate anniversary party went off without a hitch, and everyone loved the gourmet food that the couple served!