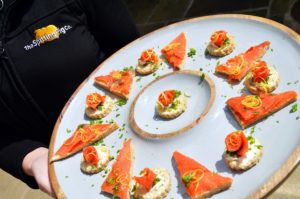 Hog Roast Thurstaston knows better than anyone that when it comes to planning a wedding, many elements need to align perfectly to ensure a truly magical day. However, sometimes unexpected events can throw a spanner into even the most carefully orchestrated plans. This was the case for Grace and Callum's wedding last Saturday.
As the big day approached, the weather here in Wirral took a gloomy turn. So, instead of the bright and summery outdoor wedding the couple had dreamed of, Grace and Callum were faced with dark skies and heavy rainfall. Thus, the difficult decision was made to move the event indoors.
This sudden change meant that our team had to swiftly adapt and transform the original plans to create an unforgettable feast within the confines of the new venue. Fortunately, our grills can be used anywhere, so our catering crew had no trouble rising to the challenge; and as promised, they successfully delivered a remarkable dining experience for the couple's 300 wedding guests!
Our formal wedding menu, which is designed to tantalise the taste buds and satisfy even the fussiest guests, was the couple's chosen meal plan for the special occasion. Bringing this feast to life took Hog Roast Thurstaston several hours, but the results were certainly worth it!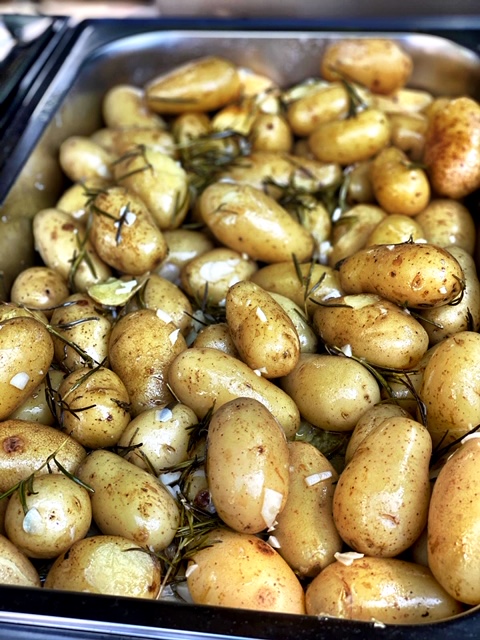 Appealing to every palate, our team crafted a diverse selection of dishes, comprising three main course options: a full hog roast, whole roasted sirloin of English beef or BBQ pulled jackfruit rolls. Accompanying these irresistible mains, Hog Roast Thurstaston served buttered new potatoes, fresh salads and coleslaw. We also prepared homemade soup and freshly baked bread rolls for the starter, which was preluded by a selection of beautifully organised canapé platters.
Drinks were available to guests throughout, and, bringing this sumptuous spread to an epic conclusion, Hog Roast Thurstaston wowed with sticky toffee pudding and creamy cheesecake, followed by a slice of wedding cake dressed in cream and berries.
Despite the last-minute change of plans due to bad weather, our team seamlessly executed a successful food service that left a wonderful lasting impression on the couple and their guests. Our team's ability to adapt to unforeseen challenges is what sets Hog Roast apart, as we strive to ensure that every event we cater for is a memorable and delicious experience!